| | | |
| --- | --- | --- |
| Ponyo's Second Trailer | | |
Written by Ivan Radford
Monday, 03 August 2009 10:31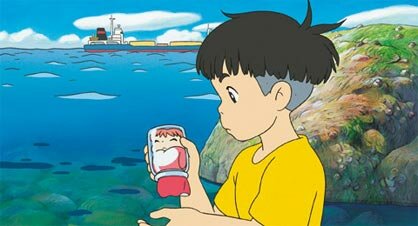 It's so cute! Yes, here's another look at the ultra-lovely latest from the wonderful Studio Ghibli, Ponyo. The second trailer for the film shows us the sweet scenario in a little more detail: little Sosuke (vocals by baby Jonas, Frankie - presuming you can tell them brothers apart) makes friends with a pretty ickle fishy called Ponyo (with the voice of Miley Cyrus's sibling, Noah).

Naturally, the fish turns into a girl, in true Ariel style. But hey, with Hayao Miyazaki at the helm, this stunning animation will no doubt end up as spellbinding as every other film he has ever made. And no, we don't count Tales from Earthsea. That was his son, Goro. Daddy Miyazaki's much better.

Co-produced by Disney (as if you didn't guess from the dubbed voice cast), the supporting speakers include Matt Damon, Cate Blanchett, Liam Neeson and Lily Tomlin. The frankly awesome-looking Ponyo washes up on UK beaches in February next year. The only way it could be better? Giving us the original subtitled version too. Come on Optimum, do us proud...

Read on for the trailer. Prepare for pure happiness.