| | | |
| --- | --- | --- |
| Ridley Will Direct Alien 5! | | |
Written by Ivan Radford
Friday, 31 July 2009 08:43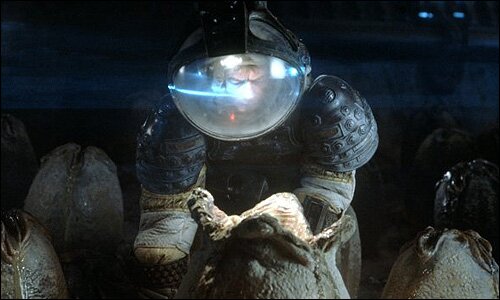 Huge sigh of relief.

Jon Spaights' script for the Alien prequel (NOT a remake), provisionally titled Alien 5, will be directed by none other than the franchise's original outer-space guru, Ridley Scott.

So it's bye bye to commercial's director Carl Erik Rinsch (originally attached to the helm) and hello to Ridley. A clash of ideals between Scott Free Productions and Rinsch? Who knows? The good news is that this prequel, no doubt telling the tale of how that ship crash-landed on Planet H R Giger (the scariest place known to man's subconscious), has pleased the great Scott. So much so that he's leapt aboard and grabbed the megaphone. Well done, Mr Spaights. Whoever you are.*

*Apparently, he's also involved with George and the Dragon, Shadow 19 and Children of Mars.