| | | |
| --- | --- | --- |
| Alien Remake - Seriously? | | |
Written by Ivan Radford
Thursday, 28 May 2009 11:56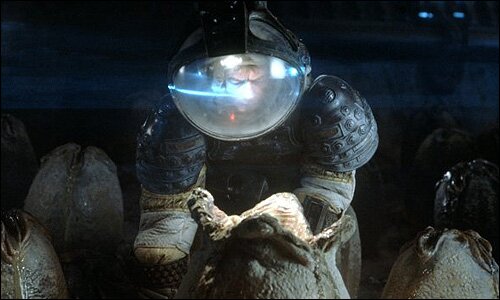 Every now and then, an inspired idea comes along that is absolutely original, brilliant and genuinely exciting.

This is not one of them.

Ridley Scott's Alien - one of the greatest sci-fi film's ever made - is 30 years old this year. Many happy returns. Box office returns, that is, because Fox are planning the ultimate celebration in Alien's honour. They're going to defecate all over it. By doing a remake.

Ok, so Ridley Scott is attached as producer (as is brother Tony). But Alien was a near-perfect film, made perfect in its Director's Cut. Why bother remaking or rebooting any of it? The rumours came from over at Bloody Disgusting, where whispers are that the movie, directed by Carl Erik Rinsch, might actually be an origins story instead.

The backstory of the most feared extra-terrestrial beings of all time? How they crash-landed on planet LV-426, just as their parents were gunned down by The Joker in front of their eyes, before being bitten by a radioactive xenomorph-toad? That'll add to the scariness, for sure. Ignoring that Fox are doing the same with Robert Rodriguez and Predator, this is frankly terrible news. I'm off to go spit some acid in someone's face. Preferably someone who works for Fox.