| | | |
| --- | --- | --- |
| Snakes on a Plane. No, really. | | |
Thursday, 16 April 2009 15:07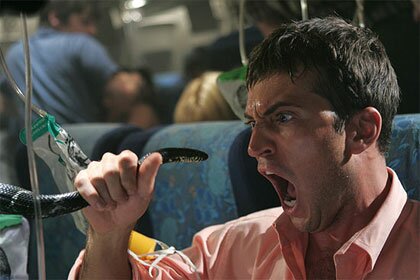 They said it would never happen. They lied. An Australian airliner was grounded this week after four baby pythons escaped from a container in the aircraft's hold.

The six-inch snakes were among 12 pythons on board the flight from Alice Springs to Melbourne. Passengers were transferred to another plan when the snakes could not be found. The plane was then fumigated. 

"They're not endangered so a decision was made to fumigate," said David Epstein of Qantas. "If these snakes turn up they will be very much dead snakes," he added, "motherf*cker".