| | | |
| --- | --- | --- |
| 11 things I learned from a Cineworld questionnaire | | |
Written by Ivan Radford
Thursday, 02 May 2013 16:18
If you didn't go on Twitter during your lunch break today, firstly well done. You're a credit to your workforce. Secondly, you missed one hell of cinema survey - the kind of PR exercise that it would take a very careless company/employee to screw up really badly.
Enter Cineworld. One of the UK's more affordable multiplex chains, they have a good loyalty scheme and an impressive dedication to showing arthouse films. Even in Enfield, where that kind of shizzle can get you knifed. I quite like them - even if their hotdogs do bounce. (Hotdogs shouldn't do that.)
But now I like them even more. Because thanks to their survey, which was apparently sent out to random folk today (and Craig Skinner, who saved the whole thing as a PDF), I've realised that my views about crazy things like equality and grammar - LOL - are completely out of step with the modern world. If only someone had told me all this stuff sooner.
Here are 11 things I learned from Cineworld's questionnaire (unless it was sent out by some other cinema chain, in which case disregard all mentions of Cineworld and please don't sue me):
1. Only women are sexy


You might think that men are sexy, but that's a common misconception: only women can be sexy. Men are there to admire the sexy women - preferably while the women aspire to date them. That's their job.


2. Only men are superheroes


A woman? Saving lives? And having POWERS? Don't be crazy. What would she do, wear a cape and tights and be called "Wonder Woman" or something stupid like that? Girl, please. There's a reason movie studios don't make films about female superheroes. Unless we're talking about the super power of IRONING. YOU KNOW WHAT I'M SAYING? *high five*


3. Nicholas Cage has an "h" in it


Yes it does. Cineworld says it does. They can't be wrong - they work in a the film industry. Also, Henry Cavill? Nope. He's called Henry Cavil. Yes he is. Cineworld says he is.


4. Actresses' careers don't last more than 30 years


When it comes to film careers, only men can stand the test of time. Maybe it's just because their genes are better than women's, but all those actresses you see not being superheroes? There's no chance they'll be around in 30 years' time. Only men can do that. Judi Dench? Maggie Smith? Kristin Scott Thomas? Yep, they're all men.


5. Capital letters can be used Whenever you Want


Grammar? WhatEver.


6. Only women are love interests


Women? Yep, they're the love interest. That's all they are - the female to complement the male in the film. Because he's the main character, obviously. To prove it, open any film script and cross out the female characters' name and replace it with "love interest". You won't notice the difference. Not even in Alien.


7. If in doubt, stick an apostrophe on the end


Plurals? Possession? Abbreviation? Nobody really knows the difference between them, so if there's an "s" at the end of a word, just stick an apostrophe on it - especially when you're writing a public-facing document for a major corporation. It always works'.


8. No one goes to the cinema with their family


I was going to go to the cinema with my brother once, then I realised how weird and wrong that would be. So I went with my partner/husband instead.


9. Non-English language is a genre of film


English isn't a genre. That's a language. "Non-English language"? That's a genre. After all, it's not as if anyone can tell the difference between them anyway. They all look the same, right?


10. Men never need rescuing

11. Cineworld doesn't like Speed 2.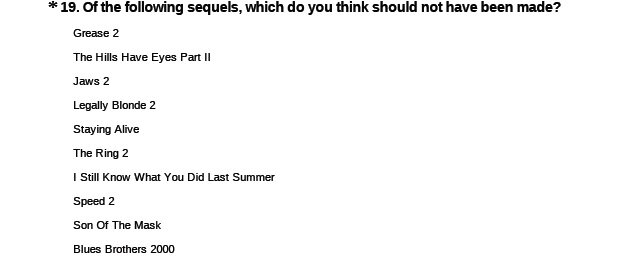 See? I told you their survey made perfect sense.



I can't wait to see what they do with the answers.