| | | |
| --- | --- | --- |
| Baffleck wins Golden Globes 2013 | | |
Written by Ivan Radford
Monday, 14 January 2013 06:44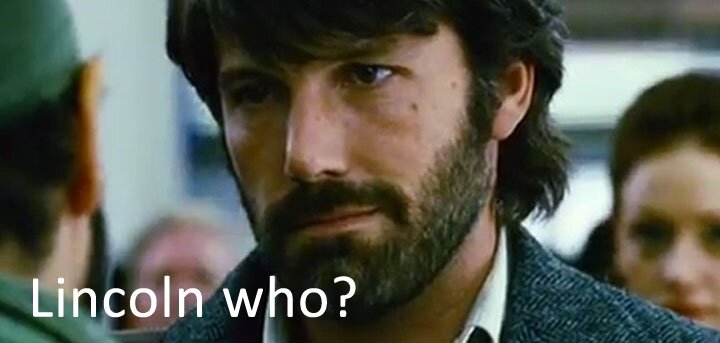 All hail Baffleck. The guy who made Gigli. The bloke with the accent from Pearl Harbour. The man Bruce Willis died for Armageddon. Baffleck. who not that long ago appeared in He's Just Not That Into You and Smokin' Aces, just won a Golden Globe for Best Director.
Let's face it, though: the Golden Globes don't mean diddly squat in the real world. They exist in a fantasy land where unicorns frolic and stars make out with the members of the Hollywood Foreign Press Association. But giving Affleck a gong for which he's not even nominated at the Oscars? It simultaneously means nothing at all and yet absolutely everything. Now that's how you do awards.
Argo won Best Picture too, sweeping Lincoln off his ridiculously over-sized feet with Baffleck's great big bushy beard. (Goodness knows what that means for the Oscars. The two ceremonies haven't agreed on Best Film since Slumdog Millionaire.)
And, in a world where no sane person could ever decide between Jennifer Lawrence and Jessica Chastain, the HFPA's bizarre division between comedy/serious categories offered a brilliant solution: they BOTH got awards.
That, plus a win for Hugh Jackman, Daniel Day-Lewis AND Anne Hathaway, Les Mis for Best Comedy, Amour for Best Foreign Film, Brave for Best Animation, Skyfall for Best Song and - surprisingly - Django Unchained for both Best Screenplay and Supporting Actor (Christoph Waltz), makes this a pleasant, evenly-spread awards shower. Which is only befitting one of the most competitive and unpredictable awards seasons in recent memory.
Yes, it's one massive fawning love-in, but everyone got a piece of the action. Which in my opinion, makes 2013 a year when the Golden Globes actually got it right. And that is SO Baffleck.
Read on for the full list of 2013 Golden Globe winners.
Best Picture - Drama
ARGO  
Best Actress In A Motion Picture - Drama
JESSICA CHASTAIN (Zero Dark Thirty)
Best Actor In A Motion Picture - Drama
DANIEL DAY-LEWIS (Lincoln)
Best Picture - Comedy Or Musical
LES MISERABLES
 Best Actress In A Motion Picture - Comedy Or Musical
JENNIFER LAWRENCE (Silver Linings Playbook)
 Best Actor In A Motion Picture - Comedy Or Musical
HUGH JACKMAN (Les Misrables)
 Best Animation
BRAVE
 Best Foreign Language Film
AMOUR
 Best Actress In A Supporting Role In A Motion Picture
ANNE HATHAWAY (Les Miserables)
 Best Actor In A Supporting Role In A Motion Picture
CHRISTOPH WALTZ (Django Unchained)
 Best Director - Motion Picture
BEN AFFLECK (Argo)
Best Screenplay - Motion Picture
QUENTIN TARANTINO (Django Unchained)
 Best Score - Motion Picture
MYCHAEL DANNA (Life Of Pi)
 Best Song - Motion Picture
SKYFALL
 Best TV Series - Drama
HOMELAND
 Best Actress In A TV Series - Drama
CLAIRE DANES (Homeland)
 Best Actor In A TV Series - Drama
DAMIAN LEWIS (Homeland)
 Best TV Series - Comedy Or Musical
GIRLS
 Best Actress In A TV Series - Comedy Or Musical
LENA DUNHAM (Girls)
 Best Actor In A TV Series - Comedy Or Musical
DON CHEADLE (House Of Lies)
 Best Mini-Series Or Motion Picture Made For TV
GAME CHANGE
 Best Actress In A Mini-Series Or Motion Picture Made For TV
JULIANNE MOORE (Game Change)
 Best Actor In A Mini-Series Or Motion Picture Made For TV
KEVIN COSTNER (Hatfield & McCoys)
 Best Actress In A Supporting Role In A Series, Mini-Series Or Motion Picture Made For TV
MAGGIE SMITH (Downton Abbey)
 Best Actor In A Supporting Role In A Series, Mini-Series Or Motion Picture Made For TV
ED HARRIS (Game Change)