| | | |
| --- | --- | --- |
| Whoa. Look at that there Cloud Atlas extended trailer | | |
Written by Ivan Radford
Thursday, 26 July 2012 08:52

Whoa. That's my official reaction to the Cloud Atlas trailer that has appeared online. All five epic, dazzling, bewildering, stonking, Ben Whishaw-filled minutes of it.
"My dear Sixsmith, I am in desperate need of your help I got hooked on a journal written in 1849 by a dying lawyer..." writes Whishaw, pained at the thought of having a taste of story and not getting the finished thing. And Cloud Atlas has managed exactly the same thing. It's gone from yet another adaptation of a grandly-titled book to an absolute must-see.
Is it the staggering scope of David Mitchell's original novel, which sees stories collide across a thousand odd years? The fact that Ben Whishaw, Jim Broadbent, Hugh Grant and Susan Sarandon are in it?
Is it because Hugo Weaving (presumably thinking that he's in a sequel to The Lorax)'s sideburns have taken over his face like a gigantic, hairy tumor?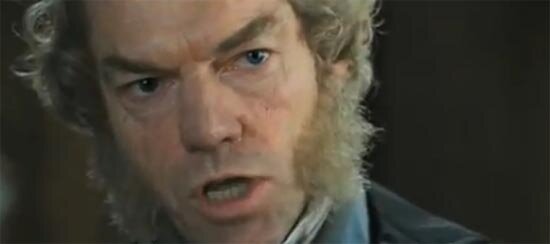 Or is it because when you combine Perfume's Tom Tykwer and The Matrix's Wachowskis, you're almost guaranteed to get something special?
Who cares? Read on for the Cloud Atlas trailer. And cross your fingers that it doesn't turn out to be the next The Fountain.
See what I mean? Whoa.
Tags:
andy wachowski
ben whishaw
cloud atlas
david mitchell
hugh grant
jim broadbent
susan sarandon
tom tykwer
wachowski