| | | |
| --- | --- | --- |
| 2012 BAFTA Rising Star Nominations See Men Vanquish Three-Headed Woman | | |
Written by Ivan Radford
Thursday, 12 January 2012 07:48

If you've look at the Orange BAFTA rising star nominations for 2012, you'll have noticed something pretty obvious: they're all men.
Manly male men with man-beards or mannishly clean-shaven male faces. Men. Menny men men.
It's an amazing achievement for Adam Deacon, Chris Hemsworth, Chris O'Dowd, Eddie Redmayne and Tom Hiddleston. Not just because the Rising Star award is a really nice award - newcomer gongs are a great way to encourage talent - but because they've managed to somehow stop Jessica Chastain getting a nomination.
As we all know after Jessica Chastain's triple-headed win at the New York Film Critics Circle awards (and many others), the King Ghidorah of superb acting is a difficult beast to slay.
It wasn't as if she was on her own, either. Chastain Monster had evolved for BAFTA's Rising Star award, acquiring the heads of Jennifer Lawrence and Felicity Jones to help bite the legs off unsuspecting villagers voters. But the five-headed creature of manhood still managed to triumph.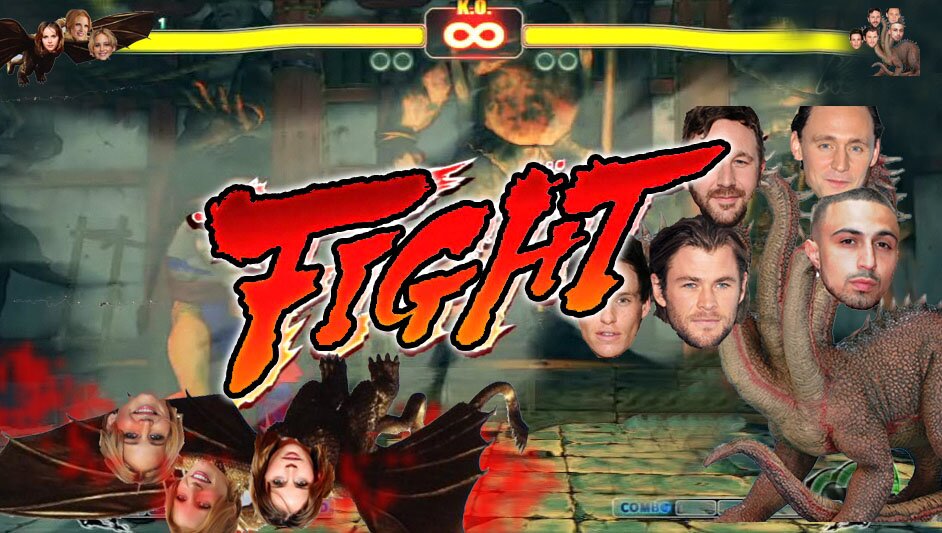 So how did they do it?
Chastain, Lawrence and Jones all made the Rising Star longlist for 2012. But a round of preliminary public voting saw all three female contenders relegated.
It's a terrible shame for Jennifer Lawrence, who since her Oscar-nominated debut in Winter's Bone has been incredible on screen, and for Felicity Jones, who has had a stunning 2011 featuring excellent turns in Chalet Girl (yes, really) and the upcoming Like Crazy. But it's a travesty most of all for Chastain, who has come out of virtually nowhere to star in Take Shelter, Coriolanus, The Help, The Debt and The Tree of Life within the past 12 months.
That's pretty much the definition of the award's ideal candidate.
I'm not going to say that Redmayne, O'Dowd, Hemsworth, Hiddleston and Deacon haven't had eventful years. From sleeping with Marilyn Monroe and wielding Thor's hammer to squaring off against The Avengers, making Anuvahood and drunkenly hosting the BIFAs while eating Kristen Wiig's cupcakes, the five finalists are all deserving filmmakers. But the other three are equally so - and it's hugely disappointing to see that they're not getting their share of the nomination pie. (Although I'm sure they'll be overjoyed to know they're all shortlisted for my Future Wife awards ceremony, taking place on the 24th of Never.)
Kate Kinninmont, chief executive of the Women in Film and Television organisation, suggested to The Telegraph: "Does it mean that young men are doing all the voting on their mobile phones? Maybe women need to get out there and take part in the process." 
I wouldn't attempt to draw a conclusion like that, but I'd love to know more about the voting demographics. A spokesman for Orange apparently has said "no voting details were available". Which probably means that he lost them - typical man. 
In a way, that's the sad part of this. There's no sexist panel of judges to highlight or unfair procedure to expose. The Orange Rising Star award is as much about audience participation as it is recognising new talent. And this year we chose to recognise the men. 
So while it's disappointing to see a BAFTA shortlist that looks like an audition for the next Ocean's Eleven film, we've only really got ourselves to blame.
Go team. Yay us. 
Did you vote? Who did you vote for? And will you vote again? 
You can pick your winner for the Orange Wednesdays Rising Star award 2012 here. The man with the most votes will be awarded his prize at the BAFTA ceremony on Sunday 12th February.
Tags:
adam deacon
awards 2012
bafta
chris hemsworth
eddie redmayne
felicity jones
jennifer lawrence
jessica chastain
rising star award
tom hiddleston