| | | |
| --- | --- | --- |
| 11-11-11: The Movie (or How to Have a Complete Mental Breakdown) | | |
Written by Ivan Radford
Wednesday, 09 November 2011 11:11
Take the number 11. Now turn it upside down. Now turn it the right way up again. What number do you have? That's right: 11. Terrifying, isn't it?
Darren Lynn Bousman obviously thinks so, because he's made a movie called 11-11-11. And you'll never guess when it's being released. That's right: on 11-11-11.
Just in case you're not scared enough by that (and you clearly should be), the film's released two different posters, one at slightly more of an angle than the other one.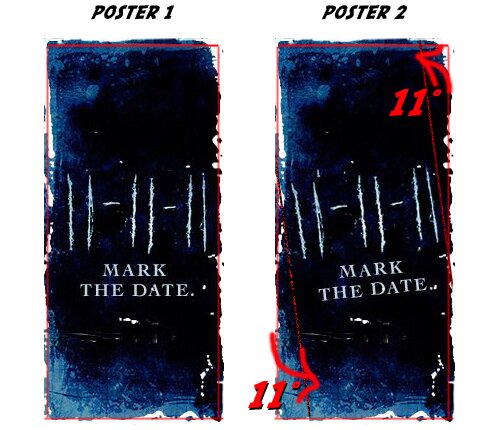 The film is "a horror set on 11:11 on the 11th day of the 11th month and concerning an entity from another world that enters the earthly realm through Heaven's 11th gate." The 11th day of the 11th month? Wait a minute, that's Friday! And an entity entering the earthly realm? Wait a minute, that's Earth! 
Yes, the film is from the creator of Saw. And yes, it sounds like a total load of number wang. But once you start thinking about it, it actually makes a lot of sense...
Let's start with the basics. Take the number 4. Now add 7. Then subtract 11 from your answer. Now add 11. What number do you have? That's right: 11. (It's OK to start getting nervous.)
Now, something a little more mind-blowing. Write down the number "1" 11 times. Add them all together. What number do you have? That's right: 11. (This is usually the point where people start to panic.)
Now, take the film's title and put it into Google. What do you get? That's right: 11.

Have you started wetting your pants yet? 
BUT THE NUMBERS DON'T STOP THERE. Look at this picture from the set of 11-11-11: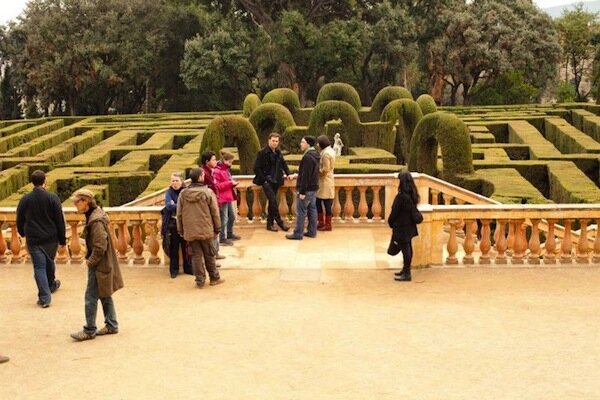 Just 10 people standing around a maze doing nothing. Looks totally harmless, right? WRONG. Look again. How many people are there? That's right...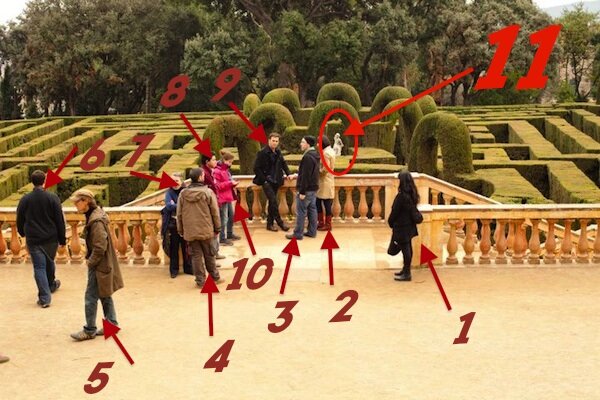 You may want to get a counsellor on speed dial now. Well, only if you go crazy and start seeing 11 everywhere wh11e you're read11ng th11s..
But stop. Breathe. Think logically. Before you go all Aronofsky and start dri11ing a hole in the side of your head, pause for a m1nu1e. After all, th1s 1s just the same kind of si11y nonsense that was in The Number 23, 1sn't 1t? And that film didn't mean anything at all.
Well, that's what you think. But take another glance at that poster for the Jim Carrey film.
How many letters are in the tit1e? Yep, you guessed 1t...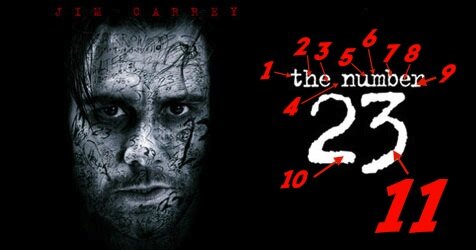 IT'S ALL TRUE. OH MY GOD. I'M SO TERR11F11ED RIGHT NOW. 
No, wait. Stay calm.
Let's not carried away. Let's just watch the trailer for 11-11-11 and remind ourselves how laughably stupid the whole premise of the film is. 
And to stop yourself getting too worked up, just pause the trailer seven seconds from the end...

Yeah, it's totally the end of the world.
RUN! SAVE YOURSELeVEnS!!111111111111111111111111111111
All that and it's only Wednesday? I dread what to think will happen in two days' time...
Tags:
11-11-11
saw
the number 23