| | | |
| --- | --- | --- |
| Aardman's The Pirates! Trailer Sets Sail with a Poster | | |
Written by Ivan Radford
Thursday, 14 July 2011 08:20
Aardman's The Pirates! trailer be sailing the online seas today, but as well as the genius video, there be a poster too. Arr, be readying yourself for... The Pirates! In an Adventure with Scientists: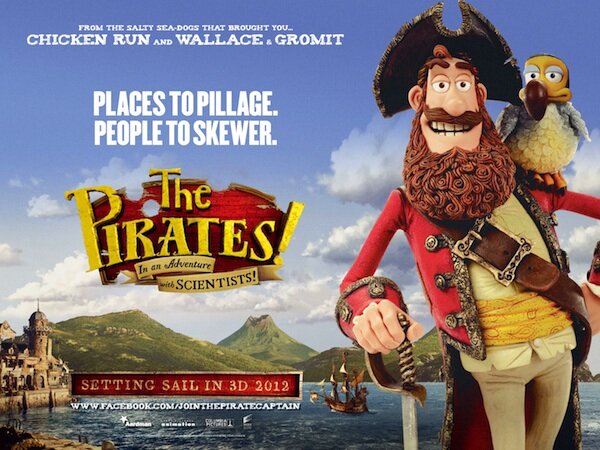 Directed by Peter Lord, it looks set to be a completely barmy bit of animation. The plot involves the enthusiastic Pirate Captain and his crew trying to win the Pirate of the Year Award. Or, to quote the amazingly catchy song in the trailer (to the tune of What Shall We Do with the Drunken Sailor?): "There's a fish in a hat, and the last dodo, ripping, roaring and a 'Yo-ho!', Charles Darwin and his monkey Bobo, and the Pirate Captain!"
Positively mental.
The cast sees Martin Freeman, Brendan Gleeson, Russell Tovey, Salma Hayek and Jeremy Piven joining the pirate ranks, with Imelda Staunton as Queen Victoria and David Tennant as Darwin. And the Pirate Captain himself? Yarr, he be played by none other than salty sea dog Hugh Grant. And you thought he could only do this: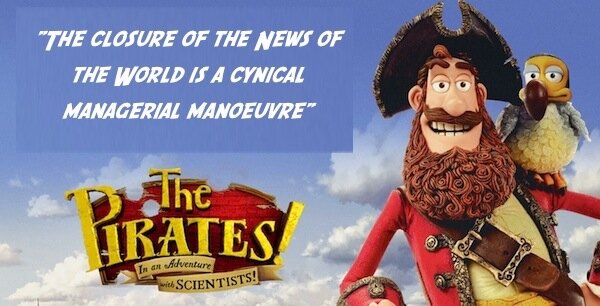 Read on to be seeing the trailer.
And, in case ye be wondering, there be an American trailer too. But it be rubbish. There's no song and it renames the film "The Pirates! A Band of Misfits". It's enough to make your timbers shiver...
Tags:
aardman
brendan gleeson
david tennant
hugh grant
imelda staunton
jeremy piven
martin freeman
peter lord
pirates
russell tovey
salma hayek