| | | |
| --- | --- | --- |
| Transformers 3 Takes Over UK Box Office | | |
Written by Ivan Radford
Wednesday, 06 July 2011 08:41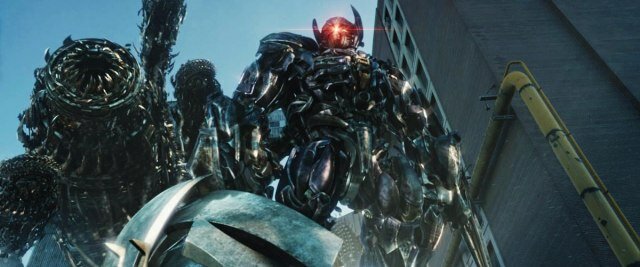 Transformers 3 invaded the UK box office this week, taking £10.7m from the puny human members of the public.
It's no surprise that Michael Bay's giant robots dominated UK cinemas, taking more than £4m in previews - the negative buzz from critics and bloggers didn't dissuade fans of massive explosions from flocking to their nearest screening.
Not that they had a hard time finding one: Transformers: Dark of the Moon is showing in 520 odd cinemas around the country. It's the most widely screened film in the UK Top Ten, a clear indication that the industry is relying on Mr Bay to produce big things. It's fallen just short of Pirates 4's £11m opening, but Paramount won't be disappointed.
With giant CGI robots blowing up our multiplexes, most of the UK Top Ten took a pretty hefty drop of around 50% from last week. Only two bucked that trend. The first is Green Lantern, which fell over 70% (and lost roughly 90 screens), continuing its floppy performance with a gross of just over £5m. The second? Bridesmaids, which dropped a mere 17% from last week's takings.
Taking £2m (way below Transformers' £10m, remember) shows an excellent hold against a male-targeted blockbuster, putting Judd Apatow's wedding comedy on a running total of almost £8m from just two weeks. With approximately 490 sites to its name (the third highest cinema share after Kung Fu Panda 2 and Transformers), it's pretty clear that Bridesmaids is on its way to a healthy gross of way over £10m - if it can beat Paul's UK total of £13.7m, it's doing well.
On a worldwide level, it's now the highest grossing R-rated female comedy on all time. Thank goodness all those people were around to tell us that women could be funny too.
Once again, incredibly, Green Lantern isn't the biggest flop of the week. That honour goes to Larry Crowne. Tom Hanks and Julia Roberts' middle-aged rom-com had a wide release across the country, but only landed at number five in the charts with around £350k from almost 380 cinemas - in other words, it didn't even manage a £1,000 average per screen, which for two Hollywood A-Listers is an impressive failure. 
Better news can be found, still, in the Senna camp, as the F1 documentary continues its race into the financial record books. I finally saw it last night at a Central London cinema, with a fairly healthy number of people in the audience. At number 12 in the charts, Senna currently has a cumulative gross of approximately £2.8m. If it can hit £3m, that's an incredible achievement.
For the full UK box office figures, head to Box Office Mojo.
Tags:
bridesmaids
green lantern
kung fu panda 2
larry crowne
michael bay
senna
transformers 3