| | | |
| --- | --- | --- |
| Bobby Fischer Against the World Premiere Tickets - Worth a Rook | | |
Written by Ivan Radford
Saturday, 02 July 2011 11:06
Yes, the Bobby Fischer Against the World Premiere is on Tuesday and tickets are still available. "Why should I care about a chess documentary?" you ask. Well, given that we're in the middle of Michael Bay season, it's nice to see something with a little more brains and maturity.
Plus check out the premiere's official description:

That's right, legendary snooker champion Steve Davis (OBE) will be there. And he'll be playing chess. Now this is the kind of sophistication and maturity I'm talking about.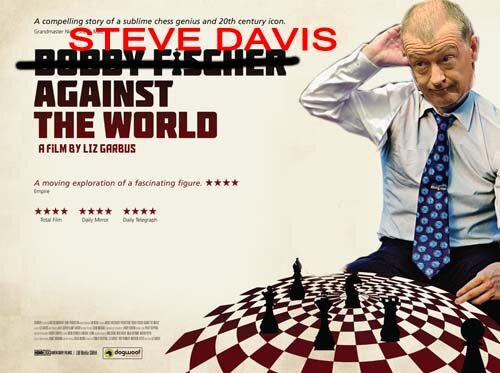 Tickets to see the film before it's released on Friday 15th July are £9, but for £15 you can also see Grandmaster Nigel Short (MBE) play 20 opponents (including Steve) at the same time. You might even get to be check-mated by Nigel too, which would put you on the same level as Steve Davis OBE. This is serious, intellectual stuff we're talking about. (Note: Steve's OBE is bigger than Nigel's MBE.)
So in short, it comes down to this:
Now that's something I would pay money to see.
Bobby Fischer Against the World is out in cinemas on Friday 15th July. Premiere tickets at London's sexy Rich Mix cinema are available here and you can head this way to watch the Bobby Fischer Against the World trailer. It's definitely worth a rook. Plus at £9, you wouldn't even have to pawn off your chess set for a ticket.
In the meantime, follow @iFlicks on Twitter for the world's most sophisticated chess puns. And references to Steve Davis's man bits.
Tags:
bobby fischer against the world
steve davis