| | | |
| --- | --- | --- |
| New Source Code Clip Shows Jake Gyllenhaal Standing Up | | |
Written by Ivan Radford
Thursday, 03 March 2011 10:32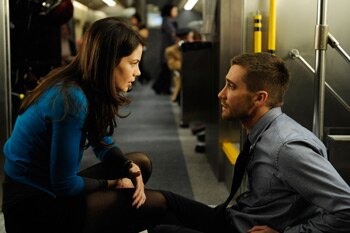 How well do you know Jake Gyllenhaal? Do you know him well enough to trust him even he did something dangerous?

After everything we've seen of Source Code so far, I would trust Jake Gyllenhaal to throw my baby out of a window if he said everything would turn out fine. After all, any man who leaps at the chance to work with Vera Farmiga, Felix Leiter, Michelle Monaghan and Duncan Jones clearly has a good head on his shoulders. It helps that the head is also gorgeous.

But back to Source Code: in case you've forgotten, this is the new sci-fi thriller from Duncan Jones, which is all about Captain Colter Stevens, who wakes up in another man's body, a la Quantum Leap, to try and stop a train blowing up via a government experiment called the Source Code. And it's almost definitely amazing.

To witness the amazingness for yourself, check out the Source Code trailer - and a second clip from the film, which literally shows Jake Gyllenhaal standing up. As far as standing up goes, he's totally got that covered. Read on for the video - and then continue counting down until Friday 1st April.
Tags:
duncan jones
jake gyllenhaal
jeffrey wright
michelle monaghan
source code
vera farmiga