| | | |
| --- | --- | --- |
| Battle: Los Angeles Clip Proves Dogs Are Evil | | |
Written by Ivan Radford
Tuesday, 01 March 2011 10:03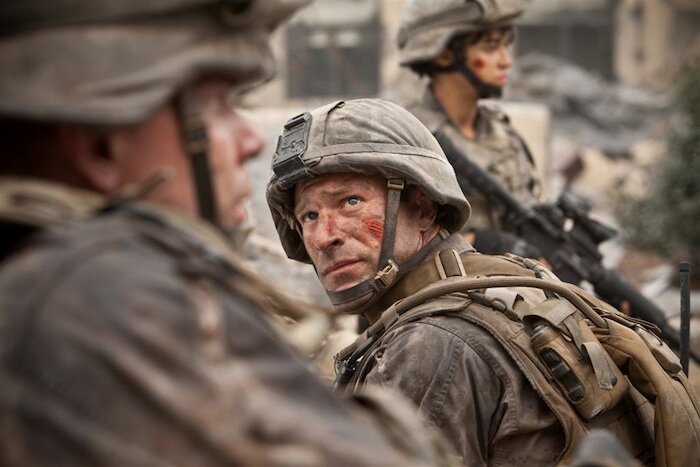 We all remember The Hurt Locker. We all remember how intense it was. We all remembering watching The Hurt Locker, realising how intense it was, and then thinking: "Someone should totally add aliens into this."

But the new clip from Battle: Los Angeles proves that it's not war (or lockers) that we should be afraid of: it's dogs.

A bunch of soldiers doing their rounds in a rubble-strewn zone of the city soon jump up into arms when they spot suspicious movement. But it's just a dog. A dog. "It's just a dog!" they call to each other. Just a dog.

They keep saying "dog" over and over like some kind of weird dog-worshipping cult when finally something happens. Hint: it's probably aliens. Aliens that look like dogs.

The handheld cameras (probably mounted on dogs) bring a nice aesthetic to the sci-fi invasion flick, even if Earth is being invaded every other week these days. But let's not lose focus on the main twist here, which is undoubtedly the dogs. Working with the aliens to bring down humanity's best chiselled jaw line - hello, Aaron Eckhart - the dogs are clearly up to something.

Maybe the dogs are the aliens and they were here all along. Do the dogs have tentacles? Why is the dog called "GLENN"? All will be revealed on Friday 11th March.

Until then, read on for the clip and prepare for the advent of our canine doom. The Battle: Los Angeles trailer is over here along with the poster, which features the film's new tagline: "Battle: Los Angeles. It's just a dog."