| | | |
| --- | --- | --- |
| The Oscar Nomnomnom Challenge - The Results! | | |
Written by Ivan Radford
Monday, 28 February 2011 11:37
While everyone else was enjoying Jennifer Lawrence being hot, Kirk Douglas being senile, Christian Bale being Brian Blessed and James Franco being away with the fairies, I was busy counting up everyone's Oscar Nomnomnom Challenge entries...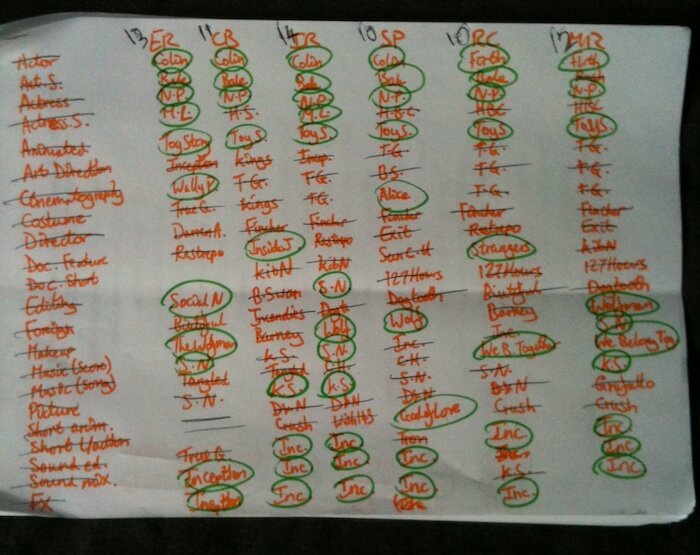 For those who can't handle green and orange pen after only a few hours sleep (MY EYES ARE BURNING), here's what everyone got right...

In ascending order...
Robbie Collin (News of the World's professional cowboy impersonator - predictions)     10
Selina Pearson (legendary analyst of Schience in Bond movies - predictions)     10
Chris Blohm (who watched the ceremony on a giant projector like some kind of rich Bond villain - predictions)     11
Matthew Reynolds (Digital Spy's most cunning digital spy - predictions)     12
Andrew Jones (who chickened out of predicting the Best Short Films - predictions)     13
Ivan Radford (who secretly planned on poisoning cupcakes should anyone else win - predictions)     14
Which means that the winner of the 2011 Oscar Nomnomnom Challenge is... ME. Which is all highly embarrassing and socially awkward. Some may be worried that their reputation has now been tarnished, but they'll be more annoyed to be missing out on the sugary frosted goodness of the Oscar Nomnomnom cupcakes.

Now, everyone carry on about your business while I stuff my face. I shall particularly enjoy these two baked specimens:



NOM NOM NOM

The Oscar Nomnomnom Challenge will return in 2012. Probably.