| | | |
| --- | --- | --- |
| Oscars 2011: The Live Blog | | |
Written by Ivan Radford
Sunday, 27 February 2011 23:18
I'm not sure why I decided to do this again, but I've got my Jaffa Cakes, biscuits, sweets, nachos, a copious amount of tea, a banana - and an inflatable cactus. I'm as ready as I'll ever be. The main question on everyone's lips (well, my lips) is: Who will win the Oscar Nomnomnom Challenge? There's a rundown of everyone's nomnomnoms and the cupcakes that could possibly be won over on Facebook.

23:25
To sum up the last 10 minutes of red carpet arrivals, he-LLO Jennifer Lawrence. Hailee Steinfeld has also turned up - but without her hat. This makes me sad. No sign of photos to slag off dresses properly yet, but here's a picture of Academy Award nominee Dave Elsey, Make-Up guru for The Wolfman, who seems to really enjoy standing around holding Benicio Del Toro's head on a stick.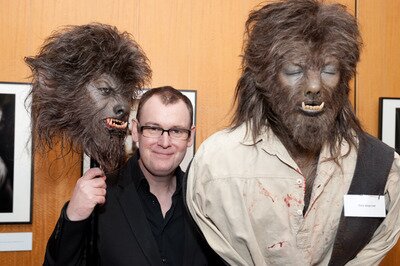 Phwoar. That filled a hole. Screw you, Amy Adams and your sexy dress.
23:30
The Associated Press stream just informed me that Reese Witherspoon is going to be wearing a dress. And then started talking about Mila Kunis' cleavage. If I shoot someone in the next hour, MILA'S BREASTS MADE ME DO IT.
23:45
Oh crap, I forgot the milk to go with the tea. Be right back. Someone watch the inflatable cactus while I'm away.
23:54
Ooo, an interview with A. R. Rahman. What happened to Dido being pregnant and unable to travel? "Well, she's pregnant. And then because she was pregnant she was unable to travel." The guy really knows how to tell a story. He must go down really well at parties.
Then, the AP's resident idiot asks him to send a message home: "I wish them all well." "Can you repeat that in Hindi?" "I don't speak Hindi". I love a bit of racial stereotyping in my national news broadcasts.
23:59
And finally the photos are starting to roll in. First up: Geoffrey Fletcher.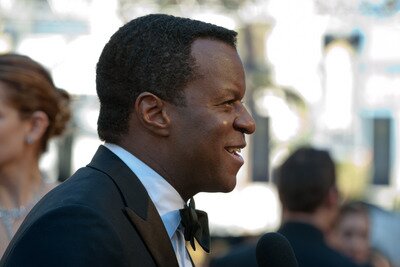 OMG, IT'S GEOFFREY FLETCHER!
00:00
*Google* And apparently Geoffrey Fletcher wrote the screenplay for Precious: Based on the Novel Push by Sapphire. Note that his screenplay wasn't good enough for the film to be called Precious: From the Screenplay Precious by Geoffrey Fletcher (and Based on the Novel Push by Sapphire).
00:06
Aaron Sorkin has just rocked up, smiling like a Chesire Cat who wrote The Social Network and The West Wing. His teeth are perfect. I bet they're the source of his power.
00:09
Not content with just hosting the Oscars, James Franco is having an Oscars party. And it's closer to the Kodak Theatre than Madonna's. I'm just going to check on Google Maps... Yep, that's still too far for me to make tonight.
00:12
"So who are you wearing?" AP are interviewing real-life 127 Hours climber Aron Ralston - and they're clearly trying not to ask him about the arm. AWKWARD. Here's that gorgeous Jennifer Lawrence in her sexy red dress (Baywatch: vintage 1994).
Hell yes.

00:14
Sharon Stone arrived on the red carpet. Literally no-one cares. People sound like they're shouting out "Sharon" but they're really shouting out "Aron".
00:17
Hilary Swank has turned up in a golden shiny dress. NO ONE PUT HER IN THE MICROWAVE.
00:24
AP just managed to interview Colin Firth and got very excited. 10 seconds later, Colin blows them off to speak to another woman next to them IN ITALIAN. WHAT CAN'T THE MAN DO?! Colin Firth is amazing. Fact.

00:25
The King's Speech director has turned up and is sauntering up the carpet. No-one really hassles him. Do they not know this is the guy who directed that episode of Eastenders where Bianca shouted at Ricky? Classic British television. He deserves an Oscar or something.
00:33
Christian Bale has arrived and is wearing a GREAT BIG BUSHY BEARD. His transformation into Brian Blessed is almost complete. And for the record, he's playing Brian Blessed as cock-er-ney. Apparently.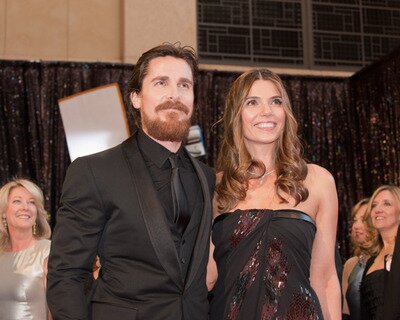 00:39
On the other end of the hairy scale is Geoffrey Rush. Why is he being played tonight by Richard O'Brien?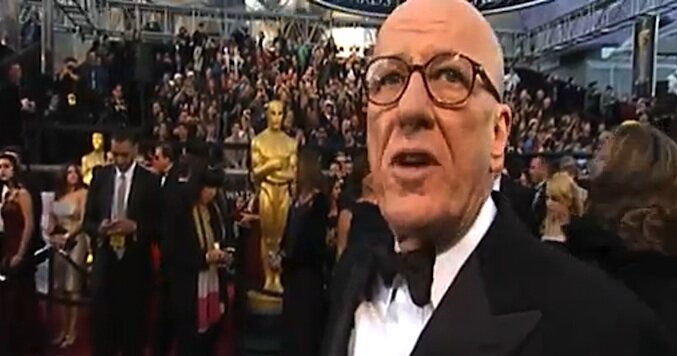 00:49
I just got a little bit aroused by a shot of Helena Bonham Carter. Wearing a garter. If anyone else uses the phrase Helena Bonham GARTER any time soon, I take full credit and demand financial compensation. Or just a garter. Preferably the one worn by Helena Bonham Carter.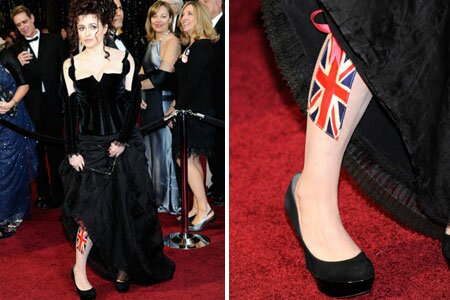 00:56
Iron Man and Batman are talking to each other on the red carpet. This evening just got a whole lot cooler. Downey Jr: "You remember that time when you punched someone?" Bale: "Yeah, it was good."
01:02
I just saw Jacki Weaver's dress. If you're not terrified by this, you have no functioning nervous system: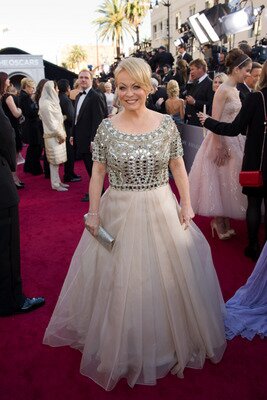 It's like Barbara Windsor was cast in a remake of Bride of Chucky.
01:23
Right, we're moving into the Kodak Theatre now - time for some serious Oscar shizzle. If any amazing photos turn up, I'll put them up here. Probably.
01:27
A nauseating and seemingly interminable interview with Halle Berry on ABC. I never realised until now how happy my life has been without Halle Berry in it.
01:30
1.30am. Cactus has deflated slightly. Cactus Watch continues.
01:37
So, an opening montage spoofing each film with James Franco and Anne Hathaway cut into each - Billy Crystal style. Going up and down in an Inception lift between levels of nominated films is a little "meh", but it gets better as it goes on. Spinning tops = dreidels, Black Swan = Brown Duck, Alec Baldwin turns up ("Please, call me Mr Baldwin") and there's even a DeLorean. Oh, and Morgan Freeman. It's pretty decent, but only once it gets going.
01:40
JAMES FRANCO JUST TWEETED LIVE FROM THE STAGE: RT @jamesfranco This just happened#OSCARSREALTIME http://say.ly/Wkda4T
01:41
And now they've got their mums/grandmas to stand up and make jokes. Hathaway's mum: "Stand up straight, Spielberg's in the room!" Franco's nan: "I just saw Marky Mark!" You know what? It almost works. A little painful, but not completely terrible. Until they make a lesbian joke about Toy Story 3. That was terrible.
01:45
Alice in Wonderland - Best Art Direction.
Yes, really.
01:47
And now the Roger Deakins Award for Best Cinematography...
01:48
... goes to WALLY PFISTER - CINEMATOGRAPHY (INCEPTION)
Did not see that coming. I'm massively happy for both Mr Pfister and Inception - but gutted for Roger Deakins. And what this means for my cupcakes.
01:54
Kirk Douglas just got wheeled out on stage. He's old, but in a cool way. Kudos to him for calling Anne Hathaway "gorgeous". James Franco's nan is getting very excited right now.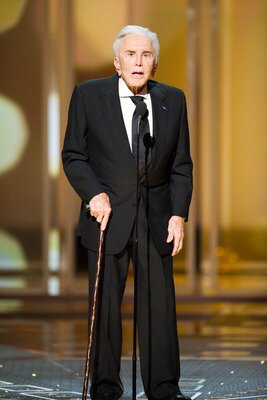 Amazing.

01:56
Kirk isn't here just to hit on Anne Hathaway. He's here to announce Best Supporting Actress. He draws it out for at least 5 minutes like some kind of senile old man. It's actually hilarious.
01:57
Which promptly goes to Melissa Leo - Best Supporting Actress.
1 out of 3 right so far. Come on you sexy cupcakes...
02:05
And now Justin Timberlake is on stage with Mila Kunis. He automatically cracks a Banksy joke (i.e. "I'm Banksy") - I can't wait to see Banksy's portrait of Justin Timberlake tomorrow morning. Then Justin Timberlake tries to be Kirk Douglas. HE IS NO KIRK DOUGLAS.
02:06
Best Animated Short: The Lost Thing - thoroughly deserved. But I predicted Day and Night. Farewell you sexy cupcakes...
02:08
Best Animated Film? Toy Story 3. Of course. Although it's a hard film to hate.
02:15
The Social Network - Best Adapted Screenplay.
The first award for Social Network tonight. Aaron Sorkin is amazing. But he should be walking and talking while giving his speech. Why is not walking and talking? Maybe the batteries in his teeth have run out.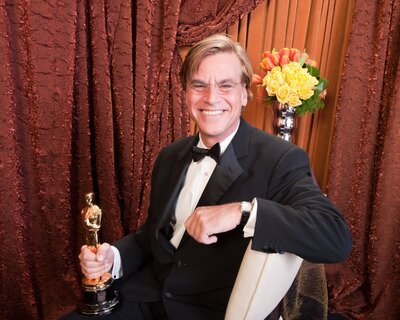 Aaron Sorkin's terrifying teeth.

02:18
The King's Speech - Best Original Screenplay
David Seidler quickly follows up with The King's Speech's first award. He's a lovely old man, who talks about being a late bloomer and stuff. Still not clear who's going to make the sweep...
02:30
In A Better World - Best Foreign Film
Well done Susanne Bier. I didn't pick you because the Academy bum Inarritu, but a female director winning is always excellent stuff. Also trying to count up Oscarnomnomnoms for everyone. It's taking a lot of time. I knew I should've learnt to count as a child.
02:37
Christian Bale - Best Supporting Actor
We all knew Bale's beard would get the award, but more surprising than that was his speech being OK. Although he did make an F-Word rant joke (to his credit) and then almost forgot his wife's name. Bless him.
02:44
Trent Reznor and Atticus Ross - Best Original Score
Hell yes, go Social Network, go! This is probably the first time in Academy Award history that an Oscar has gone to someone with the name "Trent". (Oscar non-fact alert!)
02:49
Best Sound Mixing - Inception
And of course, the technical awards head Inception's way, which is expected but still awesome. "Christopher Nolan is the architect..." they say, which will obviously make him feel better about not getting a Best Director nom.
02:53
Best Sound Editing - Inception
That's a lovely technical double whammy for Inception, presented both times by Matthew McConaughey and Scarlett Johansson. They both have scarily shiny faces.
02:58
The Wolfman - Best Make-Up
Another one right for me! Hooray! In other news, The Academy are totally Rick Baker's bitch. That's like his seventh award now. Mental. (See picture of man holding head on stick above.)
03:01
I totally tweeted "Come on Alice in Wonderland" as the Costume Design award was being introduced. Then this happened:
Best Costume Design - Alice in Wonderland
I WAS BEING SARCASTIC. Morons. Oh dear, I blame myself. Two times Academy Award-winning Alice in Wonderland? OFF WITH THE ACADEMY'S HEADS! (etc)
03:04
Now time to hear the Best Original Song nominees.
Ladies and gentlemen... RANDY NEWMAN!
Trust me - you're better off watching this right now. 
03:13
Thank goodness that's over - although it was a good reminder that Tangled's All These Days is basically a total rip-off of Aladdin's A Whole New World. Including a "Now I'm here / It's crystal clear" rhyme in the lyrics.
Best Documentary Short - Stranger No More
Robbie Collin off News of the World picked that. No one else did. Will he take home the Oscarnomnomnom cupcakes?
03:15
God of Love - Best Live Action Short
Was hoping for Wish 143 then, which made me sad, but then up popped the winner and he had the BEST AFRO EVER. His opening line? "I should have got a haircut..."
I love this man already. 
03:24
James Franco and Anne Hathaway really aren't doing very well tonight. Anne's funny and looks great, but Franco seems to be on another planet altogether. Weird.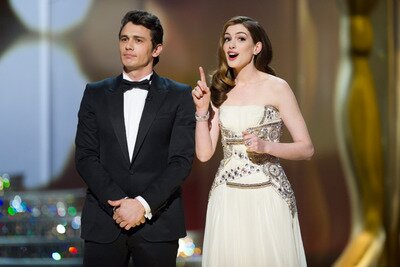 WHERE IS HE LOOKING?

Maybe he's too busy tweeting. Or painting something. Or writing a book. Or, anyway, let's get on with the show.
03:27 
It's OPRAH WINFREY - if Brian Blessed were a black woman...
Inside Job - Best Documentary
Banksy fail. All hail the "Boo Bankers" speech, but this was totally a lazy choice. On the other hand, if Oprah's Banksy, then the world just a whole lot better.
03:35
And now Billy Crystal turns up. He does a speech and some jokes. Everyone laughs. EVERYONE. Even Anne Hathaway's mum. Billy Crystal really should get back to hosting these babies. Or Jon Stewart again. Hey, what about Hugh Jackman? He was great. Although no-one could rival Kirk Douglas. KIRK DOUGLAS TO HOST OSCARS 2012: the campaign starts here. 
Best Visual Effects - Inception
No doubt there. Inception's doing brilliantly for a film that wasn't directed by Christopher Nolan. Oh wait, IT WAS. Lack of nominations is still annoying. Sort it out, Academy. Now, what will get Best Editing....
03:37
Best Editing - The Social Network
All because of that hard cut "That's not what happened" cut 20 minutes in. In other news, my cactus has deflated. And I've almost run out of sweets. One Red Bull can down. One to go. 
03:45
Marisa Tomei has turned up on stage. She's the only one tonight whose dress has been fashioned by Photoshop.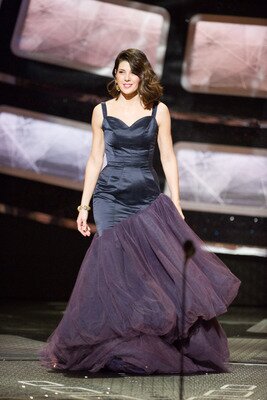 03:48
Best Song - We Belong Together
Yes, everyone. Randy Newman has won an Oscar. Again. DOWN WITH SHORT PEOPLE.
03:57
A quick toilet break and I return in time for the dead people montage - no applause here, but we do get Celine Dion singing. It's touching and a truly tragic run of deaths this year, but removing the clapping from the soundtrack? Now we'll NEVER know which dead person got the most applause.
I'm not sure Satoshi Kon got a mention in that montage. That's a bit unfair. There are probably loads they've missed out.
04:04
Now it's the last four...
Tom Hooper - Best Director
What. The. Hell? It's that stupid DGA Award that did this! Just because the Americans really liked John Adams...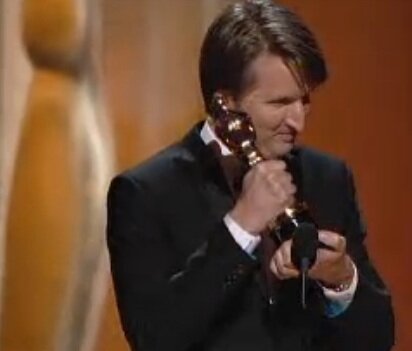 Tom Hooper - Matt Smith's boring uncle.
At first, sure, it was quite likely when The King's Speech got awards from the DGA and PGA back-to-back, but after the BAFTA went to Fincher, I really didn't expect this. Tom Hooper thanks his mum for all her inspiration. So if you want anyone to blame, BLAME TOM HOOPER'S MUM.
04:14
And now The Dude himself has turned up to announce the winner of the Natalie Portman Award for Best Actress. No eye patch, though. Shame. No gun either. Double shame. Ashley Cole would've packed some heat let me tell you.
Lots of long tribute speeches for each nominee, here, with clips and stuff. Yeah, why not. Although I do just want sleep right now.
04:18
Best Actress - Natalie Portman
I'm half dead here. GET ON WITH IT, PREGGERS. Oh, and congratulations and stuff - you seriously deserve it. Now GET OFF THE STAGE. And take those silly tassle earrings with you.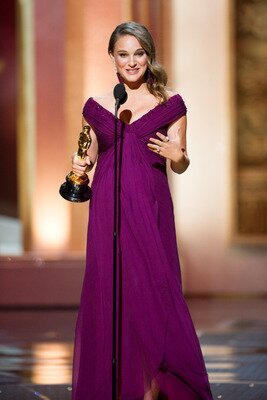 I do like Natalie Portman's lovely lady hump.

Note: if you pull the tassles on her ears, her water breaks. (Oscar non-fact alert!)
04:21
And now we're onto the Colin Firth Award for Best Actor. Sandra Bullock on speech duties. And she's doing a better job of these tributes than Jeff Bridges, which is surprising. But her shiny face and red dress are a scary combination and we're really all just counting down the seconds until...
Best Actor - Colin Firth
[INSERT AWESOME COLIN FIRTH SPEECH HERE]
04:33
Meanwhile, the Oscarnomnomnom scores now are: 13, 10, 13, 10, 10, 11...
The Oscar Nomnomnom Challenge will ACTUALLY BE DECIDED by Best Film!
And now Steven Spielberg walks out to introduce the nominees, accompanied by the Jurassic Park theme. Shame it's not slowed down by 1000%.
Now... The King's Speech or The Social Network? King's Speech or Social Network? Speech or Network? SPEECH OR NETWORK?
Well, that was an anti-climax. 
04:40
Best Film - The King's Speech
And there you have it. Mental. Well done the Brits, but this is just silly. True Grit won nothing. And Alice in Wonderland won two. Go figure.
04:41
The best bit? The winner of The Oscarnomnomnom Challenge...
Which I'll tell you when I wake up.