| | | |
| --- | --- | --- |
| Ron Perlman Reluctance Helps Hellboy Delay | | |
Written by Ivan Radford
Tuesday, 12 October 2010 08:59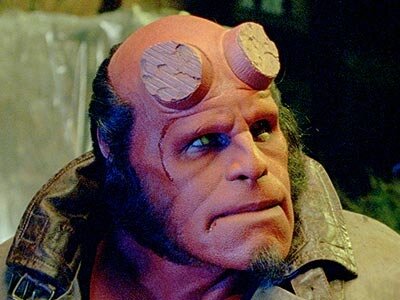 Three days ago, it was Guillermo del Toro's birthday. But there's sad news in the air for fans of William of Bull: Hellboy 3 ain't coming any time soon. Because Ron Perlman doesn't want to do it.

After the first two excellent comic strip adaptations, del Toro spoke to Den of Geek and confirmed Perlman's reluctance to re-don the red make-up of Mike Mignola's hero:

"I would love to... but I don't think Ron wants to. He really grew tired of the makeup in the second film and he was really rubbed the wrong way by those seven hour sessions. And I think that ... I don't blame him ... but I think it is almost impossible for him to agree to do it. I can't make a Hellboy film without Ron, you know, at all."

With del Toro's remake of Don't Be Afraid of the Dark also delayed from its January release (thanks to Miramax's financial problems), it's not a wonderful start to the director's 46th year. But there's a way to cheer him up: Den of Geek have started a petition to ask Ron Perlman to do Hellboy 3. Head over there to sign it. 
Tags:
fantasy
hellboy
mike mignola
ron perlman
sequel