| | | |
| --- | --- | --- |
| Jackboots on Whitehall Poster Now Online | | |
Written by Ivan Radford
Tuesday, 21 September 2010 08:20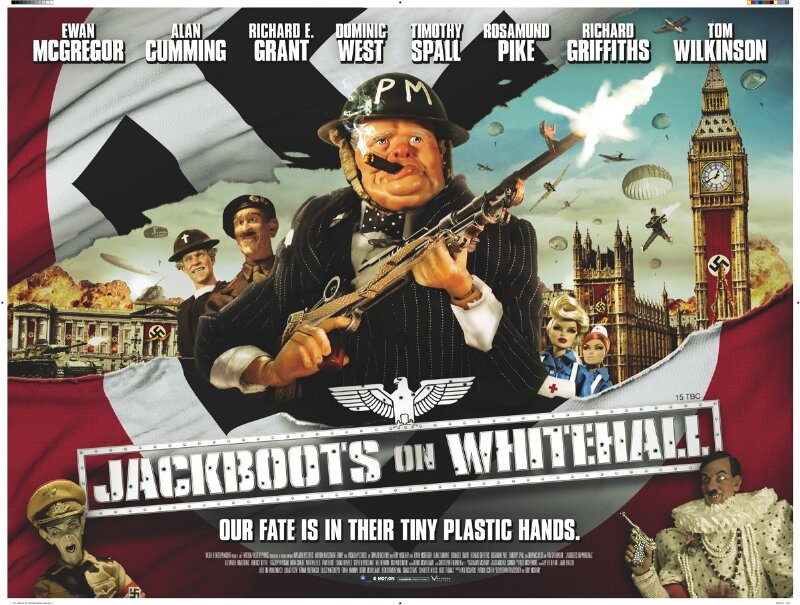 If you were one of those Brits who saw Team America and thought "we could do that", then your wish has come true with this first sighting of the poster for Jackboots on Whitehall (which appeared exclusively over at Empire).

Directed by Edward and Rory McHenry, Jackboots is a WWII-set comedy that tells the (ahem) true events of how the Nazis reached Hadrian's wall - all through the magical realism of stop-motion plastic puppets.

From Winston Churchill wielding an assault rifle to Swastikas plastering The Houses of Parliament, Jackboots on Whitehall is a demented take on our country's history. To help keep things accurate and British, the voice cast includes Ewan McGregor, Rosamund Pike, Timothy Spall, Dominic West and Tom Wilkinson.

Oh, and Alan Cumming totally plays Hitler.

Jackboots on Whitehall hits cinemas on Friday 8th October. Read on for the brilliant trailer.
Tags:
alan cumming
ewan mcgregor
jackboots on whitehall
puppets
richard e grant
rosamund pike
stephen merchant
timothy spall