| | | |
| --- | --- | --- |
| Danny Trejo Takes a Skinny Dip | | |
Written by Ivan Radford
Tuesday, 31 August 2010 08:17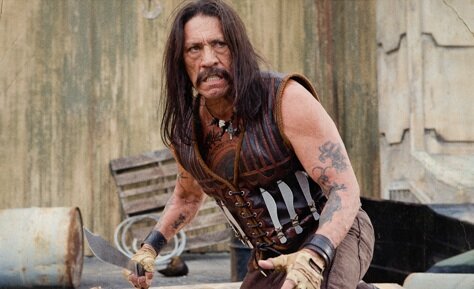 Yes, you read that correctly: Danny Trejo is down for a film called Skinny Dip. With Michelle Rodriguez. But it's not what it sounds like. It is, in fact, what fans would have hoped for: a revenge thriller.

Yes, the two Machete co-stars are reuniting for a movie about a young woman who kills a policeman. Hopefully there'll be more dead bodies than that - after all, the director knows what Danny Trejo can do. He's his son.

Gilbert Trejo, 22 years of age, will be co-directing Skinny Dip with Frankie Lantina. It's great news for the Trejo family, especially given that Gilbert seems like a definite chip off Danny's block: he met De Niro when he was nine and promptly did a "you talkin' to me?" impression at him.

Meanwhile, fans of Danny and Michelle's Machete partnership can get excited: the end credits for Rodriguez's Grindhouse-spawned B-Movie features references for two Machete sequels. Naturally titled Machete Kills and Machete Kills Again.
Tags:
danny trejo
frankie latina
gilbert trejo
grindhouse
machete
machete kills
machete kills again
michelle rodriguez
revenge
robert de niro
robert rodriguez
sequel