| | | |
| --- | --- | --- |
| First Look At Mikkelson's Musketeer | | |
Written by Ivan Radford
Friday, 27 August 2010 09:00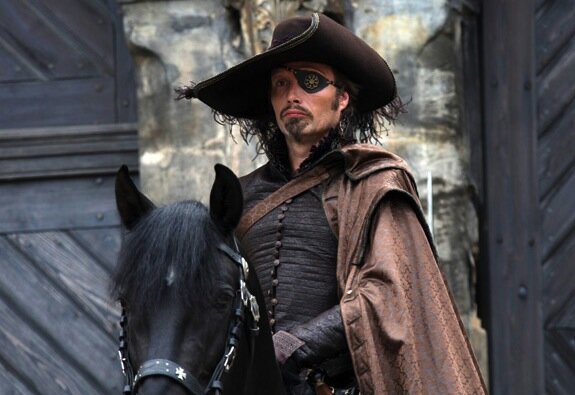 There aren't many people who can pull off an eye patch, but Mads Mikkelson is certainly one of them. Which is lucky for Paul WS Anderson, given the first pictures online from his take on The Three Musketeers.

Looking suitably one-eyed and moody, Mikkelson plays Rochefort and (over at Comingsoon.net) you can also see Logan Lerman as D'Artagnan.

Everything's nice and pristine, which is a shame for anyone hoping for some decent mud and blood. But that'll come later: Anderson isn't one to go for clean and neat period pieces. Take the fetching eye patch, which isn't in Alexandre Dumas' novel, but has been in Musketeer movies ever since Christopher Lee in 1989. Or just think of Resident Evil. Or Death Race.

Scripted by the BBC's Andrew Davies, Anderson's romp features Matthew Macfadyen, Ray Stevenson and Luke Evans as the Three Musketeers. And, if that wasn't enough for you, also on show will be Christoph Waltz, Juno Temple, Orlando Bloom and (ahem) Milla Jovovich.

Expect this next April. In 3D, of course.
Tags:
alexandre dumas
alien vs predator
christoph waltz
juno temple
logan lerman
luke evans
mads mikkelson
milla jovovich. matthew macfayden
orlando bloom
paul ws anderson
ray stevenson
three musketeers