| | | |
| --- | --- | --- |
| UPDATE: Platt, Byrne and Flemying Join Vaughn's First Class | | |
Written by Ivan Radford
Tuesday, 17 August 2010 09:59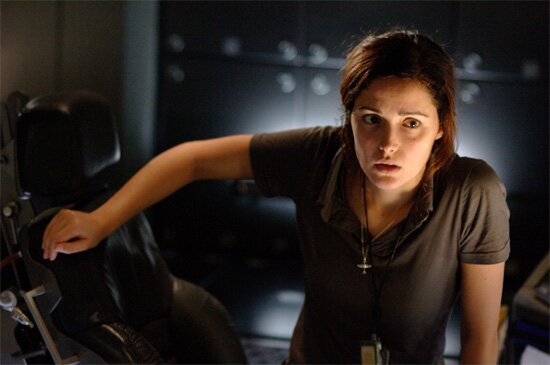 With only weeks to go before shooting starts, Matthew Vaughn is still cramming his cast list full of top talents. The latest to join X-Men's First Class club? Rose Byrne and Jason Flemyng. And Oliver Platt.

Byrne is hammering out the fine print before she signs on to play Moira McTaggert, a genetics specialist. A Scottish scientist? Yes, that's right, she'll be the one doing the naughty with James McAvoy's Professor X while he founds his school for gifted youngsters (hopefully forming a highly intelligent love triangle with Michael Fassbender's Magneto). After her turns in Knowing and Sunshine, she's got a good track in science and weird crap. Plus she can act, which helps.

Flemyng is down to play Azazel - Nightcrawler's pappy. Confirming his role at Empire's Movie-Con, the actor (who has appeared in each of Matthew Vaughn's films) is getting ready for some serious make-up work: "They said, 'Don't worry, we'll add the tail in post'".

A teleporting mutant from another dimension, Azazel spends his time trying to get freaky with human women so his bright red, long-tailed, pointy-eared genes can thrive and give him a long-term link to this world. One successful attempt later and out pops bright blue offspring Nightcrawler, complete with ears and tail. And, if you're wondering how he teleports, Empire describe Flemyng's technique as something like "a cross between a flamenco dancer and a Bollywood star". Sexy.

And, just when you thought this was enough talent to fill Professor X's school register, Oliver Platt has been announced as another actor who's hopped onboard the mutant wagon. No, he's not a mutant: he's playing The Man in Black. Now, Platt doesn't look a lot like Johnny Cash, so he's probably just your average shady government type, chasing down X-Men (or at least looking at them in a suspicious manner).

Vaughn's superhero prequel now boasts the combined skills of McAvoy, Fassbender, Kevin Bacon, Nicholas Hoult, Alice Eve and Jennifer Lawrence. And Byrne, Flemyng and Platt, of course. X-Men: First Class starts shooting at the end of this month, and will tell the world how Magneto and Professor X began their lifelong feud. Probably over a lost Johnny Cash album.
Tags:
alice eve
azazel
cast
comic book
first class
jason flemyng
jennifer lawrence
kevin bacon
kick-ass
magneto