| | | |
| --- | --- | --- |
| Babar Steps into Breaking Dawn's Gap | | |
Written by Ivan Radford
Wednesday, 04 August 2010 09:10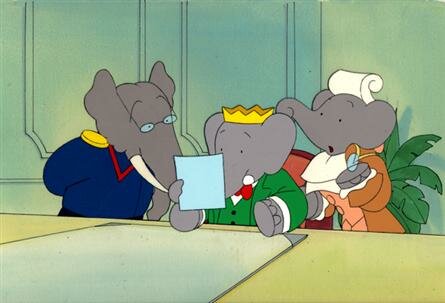 With the news that Breaking Dawn will have a big break in the middle of its two parts (to the tune of one year), Twilight fans and studio monkeys are running around in pure chaos. What can they do while waiting for Part Two on Friday 16th November 2012? The answer: Babar The Movie.
Yes, Twilight producers Temple Hill have hit on a franchise with an even bigger following than Stephenie Meyer's vampire saga: Babar the elephant. They've done a deal with Nelvana and the Clifford Ross Company and are all set to bring Jean de Brunhoff's grey trunked hero to the big screen.

Babar first made his French appearance in 1931's Histoire de Babar, before hitting these shores in 1933. When Brunhoff died in 1937, his son Laurent (not the vampire) took over writing duties in 1946. Now that's a literary heritage and a half. Not to mention that amazing TV series.

Babar, a young elephant who winds up being crowned king, will get his cinematic outing in Babar: The Adventures of Badou. Sweeping the dictatorship and colonial issues aside, expect a lovely animated outing for all the family. Featuring rhinos, warfare, big ears, and that adorable cute little crown. Rumours of a guest appearance by Robert Pattinson are unconfirmed. But the schedule for Temple Hill is pretty well mapped out now: vampires, vampires, elephants. 
Tags:
adventures of badou
animated
babar
bella swan
bill condon
breaking dawn
edward cullen
elephant
jacob
jean de brunhoff
kristen stewart