| | | |
| --- | --- | --- |
| Poster and Trailer for Devil Now Online | | |
Written by Ivan Radford
Wednesday, 04 August 2010 08:37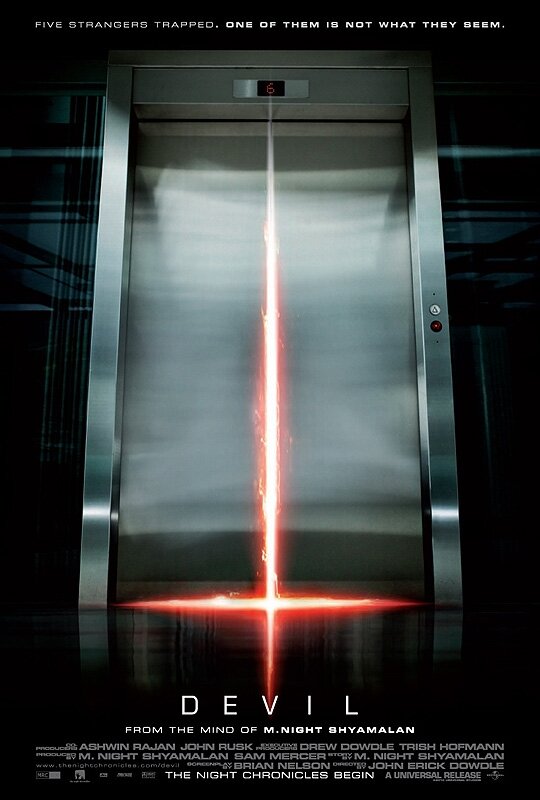 M Night Shyamalan continues to get movie work, despite The Happening and The Last Airbender's brain fail, and this is what he has come up with: Devil. He's not directing it, but he has come up with the story, which Brian Nelson has now turned into a screenplay.

Devil is a horror movie set in a lift. Yes, that most deadly and horrible of places - presuming you're claustrophobic. Five people wind up trapped in a lift and one of them turns out to be the Devil.

Your standard extended sitcom idea, then, from the man who came up with The Village (a reality TV show gone wrong if ever there was one).

John Erick Dowdle has the helm for this, building on his experiences in confined spaces from Quarantine. Although whether that will prepare him for anything that's come "from the mind of M Night Shyamalan" is another thing entirely.

Devil is out on Friday September 17th. And it might even be the beginning of a series of M Night Shyamalan ideas, if the secondary tagline "The Night Chronicles Begin" is anything to go by.
You can head over to Empire for the exclusive Devil poster and trailer, or just read on and laugh at the video here.