| | | |
| --- | --- | --- |
| Inception Prequel Comic Online | | |
Written by Ivan Radford
Wednesday, 14 July 2010 08:59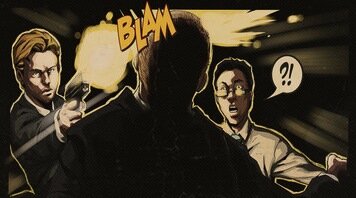 Have you heard of Inception? You probably have. Well, now you can read it as well as watch it, with a prequel comic that's turned up over on Yahoo! Movies. The Cobol Job takes place before Inception's main plot, with the events leading neatly up to the beginning of the film - it's not exactly spoiler-free in some regards, but it won't ruin the movie before you've seen it.

Written by Jordan Goldberg, it's features  some lovely artwork from Long Vo, Joe Ng, and Crystal Reid, nicely capturing the likeness of Leonardo DiCaprio and Joseph Gordon Levitt. Under 20 pages long, it takes you throw one of Cobb's standard dream heists, inspired by Christopher Nolan's film. And you know what? It's rather good. And the online reader for it ain't half bad either - much like the viewing style of the iPhone's Comics app.

You can read it online over at Yahoo! Movies, or download it as a PDF. Well worth a look. Even if you do wait until after you've seen the film. Oh, Inception comes out on Friday by the way. And it's pretty much the film of the year.
Tags:
batman begins
comic
dark knight
dream
imax
ken watanbe