| | | |
| --- | --- | --- |
| Green Hornet Trailer and Stills Online | | |
Written by Ivan Radford
Tuesday, 22 June 2010 09:50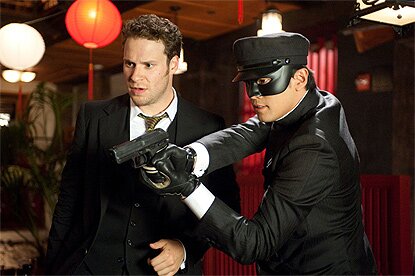 Forget Orange Wednesday, today is Green Tuesday, with all manner of Green Hornet treats popping all online for us to buzz about. It's not out until January now, but Sony have already released official stills and a trailer for Michel Gondry's superhero flick, which sees Seth Rogen don a costume and try his hand at action sequences.

He's not that bad a fit really - he's slimmed down and toned up quite convincingly, without losing his trademark comic style. It helps, of course, that he's got Jay Chou as his sidekick Kato, who looks to be pulling the majority of the punches.

Kato (whose fighting skills look to be matched by an equal talent at producing weapons from hidden compartments) helps playboy Britt Reid find his feet when he inherits a media empire when his father (Tom Wilkinson) is discovered dead. Wanting to do something meaningful in the world, Reid and Kato soon come up with a plan: The Green Hornet. Something that evil crime-lord Benjamin Chudnofsky (Christoph Waltz) is none too happy with...

There's not much sign of the crazy Gondry visuals we all hope and expect ("Kato-vision" may make a brief appearance towards the end of the trailer), but this is only the first trailer - after all those rumoured disagreements between the studio and the creative helmer, there's still a lot of post-production work to go. It's a mixed bag so far, but hope is definitely still in the air. As far as generic blockbusters go, this one looks like it's still got a sting.

Check out the trailer over at Yahoo! Movies, or read on for the whole video. And a second pretty picture - it's got Christoph Waltz in it. And he's holding a gun. 
 Christoph Waltz as Benjamin Chudnofsky