| | | |
| --- | --- | --- |
| Conviction Trailer Online - Starring Sam Rockwell | | |
Written by Ivan Radford
Friday, 18 June 2010 11:03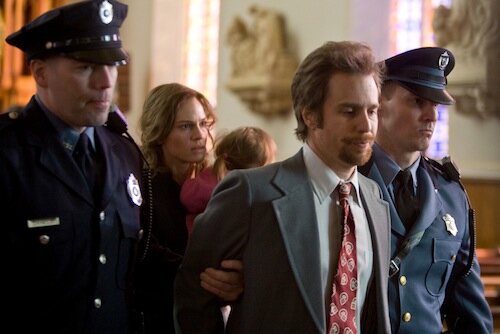 For Searchlight are really pushing for awards this year: first Never Let Me Go, now Conviction. What's that, you say? Well, it's a true story, about Kenny, a man placed in prison in 1983 for a crime he didn't commit. Cue his younger sister Betty going through high school, signing up to law school, passing the bar, then reopening his case in good old legal court.

Inspirational stuff, right? Well, the cast list certainly is: Sam Rockwell is set to once again prove the mathematical formula that Any Film (N) + Sam Rockwell (SR) = Significantly Better (SB). He plays Kenny, while Hilary Swank plays his sister, and Peter Gallagher's eyebrows play Peter Gallagher's eyebrows.

Expect Tony Goldwyn's drama around springtime next year. You can check out the trailer over at Apple.