| | | |
| --- | --- | --- |
| First Picture of The Tourist Revealed! | | |
Written by Ivan Radford
Tuesday, 15 June 2010 16:49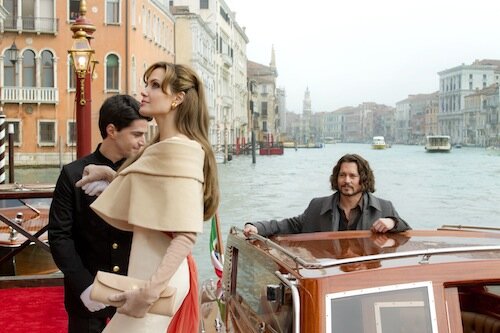 Venice. Phwoar. Johnny Depp. Double phwoar. Angelina Jolie. Not so much with the "phwoar" to be honest, but it's still hard to deny that The Tourist might mathematically be the prettiest movie ever conceived - as the newly revealed still from Optimum indeed proves.

There's the pretty backdrops, the pretty A-List movie stars, the pretty colours and costumes, the pretty hair... But enough about the prettiness: here's the official synopsis for the film:

"The Tourist revolves around Frank (Depp), an American tourist visiting Italy to mend a broken heart. Elise (Jolie) is an extraordinary woman who deliberately crosses his path. Against the breathtaking backdrop of Venice, Frank pursues a potential romance but soon finds himself the pursued as he and Elise are caught in a whirlwind of intrigue and danger."

That's right, folks! A whirlwind of intrigue! And danger! This could be good stuff - but you'll have to wait until December to find out for sure. Until then, enjoy one hell of a first impression. Did I mention Johnny Depp was pretty?