| | | |
| --- | --- | --- |
| Thor's First Pictures Online | | |
Written by Ivan Radford
Thursday, 03 June 2010 15:58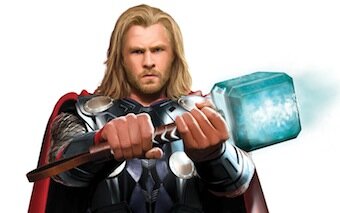 Remember Captain America and his colour-themed get-up? Well, all that feels like an hour ago now, because Marvel have also got some shots of Thor knocking about online too. The first images of Chris Hemsworth see him posing like some kind of god, with his godlike costume and wavy goddes hair. And his Massive Hammer. Which glows.

Yes, Mjolnir takes centre stage in these pictures, somehow striking a good balance between mythical, crazy weapons and nonsensical cheesy stupidity. The costume isn't too daft really - it actually looks better than Captain America's - and Hemsworth's face says it all: I'm bad ass. More bad ass than Captain America. And I have a Massive Hammer.

I'm not arguing with that.

Check out the photos at Collider, or read on for a slightly bigger version of the hairy godlike god person.