| | | |
| --- | --- | --- |
| First Look at Captain America | | |
Written by Ivan Radford
Thursday, 03 June 2010 14:58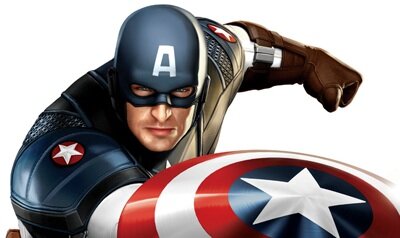 Marvel fans will be wetting themselves at this: the first images of what Chris Evans will look like as Captain America. Apparently it's a pretty faithful take on the hero's outfit, what with the hat, shield, stars and colour-striped clothing, but it does have a stripped-down, practical edge to it. A bit like an actual Army uniform.
Whether that means Joe Johnston's going for a realistic, serious outing is still unclear. But the tale of Steve Rogers (Chris Evans), your average Army guy who signs up for a secret project to create a super soldier, is well under way. He even has two costumes - this being the second one.
The first is apparently more flashy. Like the one in the original comics. Here's hoping for a nice lot of sequins on those sexy, slimline tights. How that'll work in real life instead of pre-rendered images is anyone's guess. But presumably his face will be a bit less shiny.

Head over to Ain't it Cool News for the original scoop, or read on for a nice big picture of Chris Evans looking manly.