| | | |
| --- | --- | --- |
| Eurotrip 2010: A Trek to Remember | | |
Written by Ivan Radford
Saturday, 22 May 2010 08:29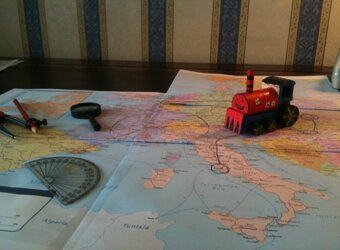 In case you haven't realised from my recent tweets, I'm heading off into the heart of darkness (Europe) today to have one of those generic trips of a lifetime things. Think Cemetery Junction, but with less good looking young people. For two whole weeks I'll be moving across Europe by train (screw you ash cloud) before heading back to London via Belgium.

Presuming everything goes to schedule, I'll be starting off in Rome tonight, before heading off to Vienna, Prague, Krakow, Berlin and Bruges. That pretty much means no reviewing for 14 days - although the site will be updated sporadically. On the other hand, you'll get a string of pictures turning up instead, no doubt relating to The Talented Mr Ripley or Gladiator, The Third Man, In Bruges, and possibly even Schindler's List. I can't think of any movies to do with Prague.
So keep checking back for occasional tweets, photos, slices of foreign culture and several bitter swipes at Sex and the City 2. It'll clearly be worth your time. My feet are hurting already, but this holiday should be a trek to remember. If only for the pain in my heels.