| | | |
| --- | --- | --- |
| Joaquin Mockumentary Under Wraps | | |
Written by Ivan Radford
Friday, 07 May 2010 17:39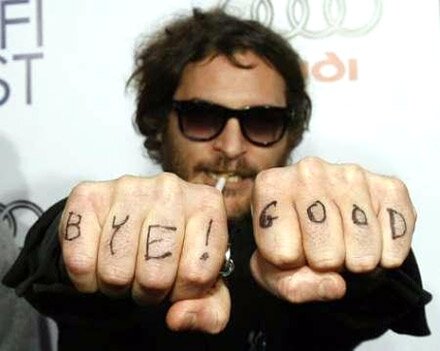 Is it a mockumentary? Is it a documentary? Is Joaquin Phoenix a retired actor now rapper? Or is he still an actor pretending to be a rapper?

No-one ever really knew what to make of Joaquin's mental announcement back in 2008. All we could see for certain was brother-in-law Casey Affleck chasing him around with a video camera, capturing it all on film. Freaking out the entire country - and his legion of fans - with his crazy behaviour, his transition to hip-hop star culminated in an insane performance on David Letterman.

Now, two years later, the film is complete and they're trying to sell it on. At a private lunch a few days ago, Harvey Weinstein and a few choice others watched the top-secret video, with all prospective buyers sworn to silence. Given the hush-hush nature of it all, Cannes is definitely out for a public unveiling, but distribution may not be far off, according to Deadline.

As always, the only reaction one can have to this seems to be mild bemusement. 
Tags:
career
casey affleck
hip hop
hoax
joaquin phoenix
letterman
mockumentary
musician
practical joke
rap
retirement