| | | |
| --- | --- | --- |
| Machete Trailer Unleashed | | |
Written by Ivan Radford
Thursday, 06 May 2010 09:06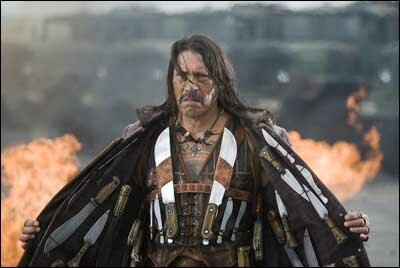 "We didn't cross the border, the border crossed us!"

So says Jessica Alba, right as Arizona goes immigrant crazy. The two aren't exactly a coincidence. You see, Cinco de Mayo - or May 5th to non-Spanish folks - is a national holiday. And it's the day that Robert Rodriguez chose to send Arizona a message. Yes, he's given them (and us) the first trailer for his full-on slice of explosive B-Movie exploitationL Machete. A trailer for a movie based on a trailer? Hell yes.

The plot is pretty much exactly the same as that spoof Grindhouse video: Machete (Danny Trejo) is an ex-Federale who gets hired by some bad people to assassinate a senator (Robert De Niro) keen on kicking out the illegals. But then Machete finds out he's been double crossed. Cue knife-wielding revenge, alongside people like Jessica Alba, Michaelle Rodriguez, Cheech Marin and Steven Seagal. Yes, Steven Seagal.

Directed by Rodriguez's go-to editing guy, Ethan Maniquis, the trailer for this bloodbath is over at Ain't It Cool News. Enjoy - that's a promise.