| | | |
| --- | --- | --- |
| Inception Synopsis Released | | |
Written by Ivan Radford
Wednesday, 05 May 2010 11:22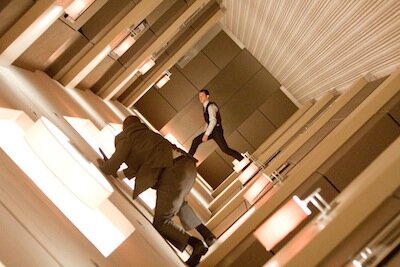 Most people who have been following Christopher Nolan's mind-bending blockbuster OF THE MIND have already got a pretty good grasp of what it's all about. They've probably even played around with the wonderful little viral website, which we went on about a while back.

But if you're still after the official line on what's going on in Nolan's latest, Warner Bros have released a synopsis for Inception, which The Playlist Nation promptly picked up. I would say it's spoiler heavy, but let's face it, it outlines the basic premise of the plot. It doesn't tell you the ending. And if you've put any effort into this fanboy lark, you already know half of it already. But hey, some like their secrets kept secret until the film goes and ruins it all by making the storyline public. So, if you want it, here it is:

"Acclaimed filmmaker Christopher Nolan directs an international cast in an original sci-fi actioner that travels around the globe and into the intimate and infinite world of dreams. Dom Cobb (Leonardo DiCaprio) is a skilled thief, the absolute best in the dangerous art of extraction, stealing valuable secrets from deep within the subconscious during the dream state, when the mind is at its most vulnerable.

"Cobb's rare ability has made him a coveted player in this treacherous new world of corporate espionage, but, it has also made him an international fugitive and cost him everything he has ever loved. Now Cobb is being offered a chance at redemptio

"One last job could give him his life back but only if he can accomplish the impossible — inception. Instead of the perfect heist, Cobb and his team of specialists have to pull off the reverse: their task is not to steal an idea but to plant one. If they succeed, it could be the perfect crime.

"But, no amount of careful planning or expertise can prepare the team for the dangerous enemy that seems to predict their every move. An enemy that only Cobb could have seen coming. This summer, your mind is the scene of the crime."

Whether that ruined the surprise for you or not, you can't deny one thing: this is bloody exciting stuff.