| | | |
| --- | --- | --- |
| Someone Sues Fox's Chipmunks Squeakquel | | |
Written by Ivan Radford
Wednesday, 28 April 2010 12:45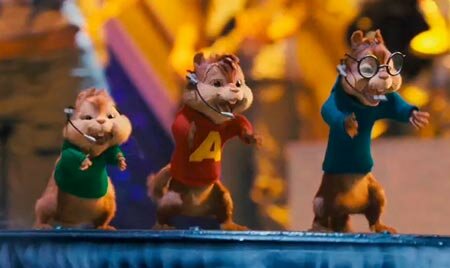 It's not hard to believe - there's a little part of everyone who would like to sue Alvin and the Chipmunks: The Squeakquel. But Ross Bagdasarian has a different reason than most for bringing action against 20th Century Fox: he wants credit for writing the film. You see, he created Alvin and his furry friends, and his company (Bagdasarian Pods - which sounds like a Douglas Adams character) have several issues to do with the screenplay of the second movie.

The script was initially written by Janice Karman (married to Ross Bagdasarian Jr, dontcha know) and then re-written before Janice returned to finish off the final draft. And so she feels she's entitled to half of the franchise's profits as co-writer. In a shocking move, she even points out several scenes and claims to be responsible for them. Goodness knows why she wants that credit.

As part of the family who own Alvin's rights, Karman's claims make up most of The Bagdasarian's lawsuit, which also complains that Fox never delivered on other financial arrangements (read: merchandising) and never took full advantage of possible tie-ins for the film's release - a bizarre allegation by half, if it weren't for the fact that the Bagdasarians sued Universal in 200, which led to Fox having a chance to come up with a movie.

The company's legal team told The Hollywood Reporter: "The Bagdasarians' claims are completely without merit. We look forward to resolving our differences and, in the meantime, we are continuing to move forward with this franchise."

Shame, really. They could just pay them off and quit while they're behind. If not, I may sue for them ruining my childhood.