| | | |
| --- | --- | --- |
| Alien Prequel Spawns Second Movie | | |
Written by Ivan Radford
Monday, 26 April 2010 09:28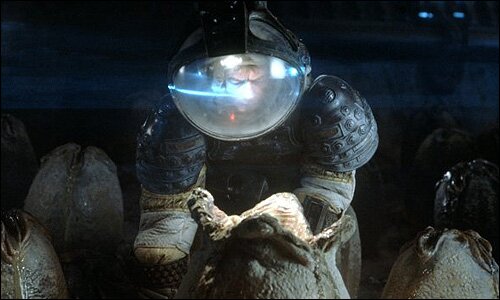 Yes, that's right: there will now be two Alien prequels. Ridley Scott - doing the rounds for Robin Hood - has been revealing more and more details about his new entry into the franchise. Or entries, to be specific.

Collider joined the fray of people asking questions, to discover that there will indeed be two movies taking place before the events of the original Alien. Set 30 years before, it won't see Ripley as a main character, but the lead will be female. As for who will direct which and when, Ridley is less specific: "At the moment I'm just trying to get the first one out."

It's also interesting to hear his take on all things 3-D. Shooting the prequel with the latest technology, he's coming up against one major obstacle: the lighting. For 3-D to work best, it needs a lot of light. Which means regrading everything in post-production.

What about converting old films? Would he re-touch Blade Runner as Cameron will with Titanic? "Not really. I'd rather save that energy for something new."

As concise as ever, Ridley is still responsible for the two greatest sci-fi movies ever made. But with recent output including Kingdom of Heaven and Body of Lies, can he really pull off a fresh Alien film? I hope so.