| | | |
| --- | --- | --- |
| New Inception Stills Online | | |
Written by Ivan Radford
Monday, 12 April 2010 17:11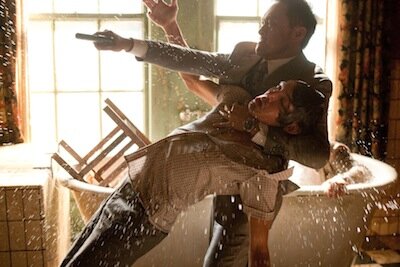 And they really are stunning stuff.

There's still a lot of stuff under wraps for Christopher Nolan's mind-bending blockbuster, but (after last week's plot insights) things are a little clearer. With Leonardo DiCaprio entering dreamland, prepare for a world that contorts in upon itself regularly. Even if you're in the middle of a heavy-weight corridor punch-up:

"[The rotating hallway] was like some incredible torture device; we thrashed Joseph for weeks," Nolan told the LA Times. "But in the end we looked at the footage, and it looks unlike anything any of us has seen before. The rhythm of it is unique, and when you watch it, even if you know how it was done, it confuses your perceptions. It's unsettling in a wonderful way...we want an extraordinary thing that happens in an ordinary way. That's always been the goal."

Well, he's pretty much achieved that goal just from the trailers and pictures. Forget Avatar: "I think ours is of an older school [of sci-fi fantasy], ours is more of 'The Matrix' variety and the concepts of different levels of reality," Nolan said. "It's very much pulled from that era of movies where you had The Matrix, you had Dark City, you had 'The Thirteenth Floor... They were based in the principles that the world around you might not be real."

The very fact that he knows (and likes) Dark City is reassuring. And that's before you remember that this is the guy who made Memento and Insomnia. Read on for the twisty, windy, dazzling new stills.