| | | |
| --- | --- | --- |
| Wham Bam Cam Slams 3-D Conversion Sham | | |
Written by Ivan Radford
Thursday, 25 March 2010 13:10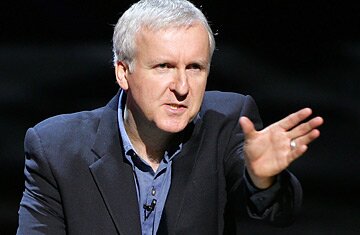 I thought the headline explained it all pretty clearly. But to elucidate things a little further, James Cameron has hit out at the current craze for 3-D conversion, threatening to strangle everyone with his powers of the dark side.

Film-makers "should have been pounding on the gates of the studios saying we want to make movies in 3-D", according to Cameron, who now thinks that studios are taking over decisions which "should be made by film-makers". Not that he's against 3-D, just the slapdash conversion that's happening to films originally shot in 2-D.

The director of Avatar, which had a budget of around $300 million, thinks that converting a movie in post-production offers less of an immersive experience. So when people see bad 3-D movies, the appeal may wear off. I agree with the last bit - the appeal of novelty 3-D effects will wear off.

But even more shocking is that Michael Bay is also sceptical of the process: talking about Transformers, Bay said that he's "not sold right now on the conversion process". So while we got Tim Burton's Alice in Wonderland and will soon have Clash of the Titans in three dimensions, Transformers 3 in 3-D looks unlikely. Which is good news.

As Avatar continues to rake in nearly $3 billion worldwide at the box office, James Cameron's criticism of studios' money-hungry band wagon jumping is a bold move. The comments come as he plans to convert Titanic and re-release it in 2012. Although he'll be taking time over the conversion. So that's ok then.

I wouldn't disagree with him, if I were you. He'll kill you with his left-handed mastery of the force grip. He strangled a man last week from 12 metres. Too bad it wasn't Glen Beck.