| | | |
| --- | --- | --- |
| Four Lions Trailer Now Online! | | |
Written by Ivan Radford
Thursday, 18 March 2010 11:28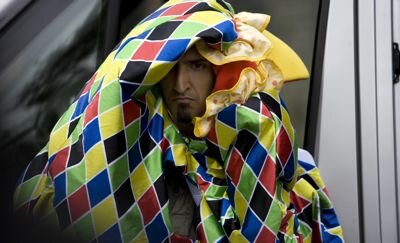 "You're confused, bro." "I'm not confused! I just took a picture of my face on my phone and it's not my confused face!"

Welcome to world of modern terrorism. Don't feel your up to scratch in your knowledge of strapping bombs to crows, or blowing up the internet? Well, now you're in luck, because Chris Morris' controversial, inspired and generally hilarious film, Four Lions, has now got an official trailer. 

Giving us even more of a glimpse at the incompetent cell of idiots trying to make a mark for their cause, the trailer is as brilliant as that clip what we showed you a while back. You can check them both out over in our videos section - they'll blow your socks off. Probably without meaning to.

And, if you fancy even more Jihadist fun, keep reading for a look at the sexy new poster. Four Lions hits cinemas with a bang on Friday 7th May. I. Can't. Wait.