| | | |
| --- | --- | --- |
| Wall Street 2 Delayed to September | | |
Written by Ivan Radford
Thursday, 11 March 2010 10:47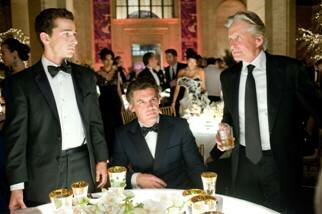 With Michael Douglas back on board for his Wall Street sequel, Oliver Stone was all set to prove to the world that Money Never Sleeps. Now it turns out that money does sleep. For another four months. Yes, Fox have decided to hold the film's release back until September, for mostly undisclosed reasons.

Some insiders are saying that the decision comes with the prospect of a Cannes invite for the festival. Success there in May would lead to a good launch platform come autumn - although they had a pretty good launch platform in place after stars Shia LaBeouf and Carey Mulligan had done the rounds with Douglas and Josh Brolin.

All the studio have officially said is that the film is more suited to a September release, away from the summer blockbusters. Either way, it's been 23 years since Gordon Gekko's last outing. Another few months won't hurt him or his relevance. After all, the world's finances are hardly going to be sorted out by then.