| | | |
| --- | --- | --- |
| Wanda! The Musical: Bailey On Board | | |
Written by Ivan Radford
Tuesday, 02 March 2010 11:47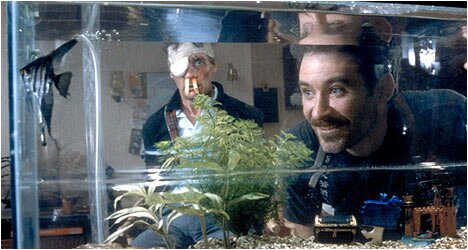 If John Cleese approached you to write songs for the musical version of A Fish Called Wanda, you wouldn't say no. Which is why Bill Bailey is now helping to compose the songs for the new show based on the 1988 comedy.

Cleese has been writing the book with his daughter Camilla, hoping for an eventual Broadway and West transfer following a debut in San Diego. After the success of Spamalot, Cleese is clearly confident, saying:

"I'm pleased that Camilla hasn't completely stolen all of my dignity in writing so brilliantly. She's left me a few scraps to hang onto to keep me warm at night... Soon, we'll start to work on the songs for the show with Bill Bailey, who, among his many achievements, is an honorary member of the Society of Crematorium Organists. This musical is destined to be a hit amongst funeral directors."

So, a musical based on one of the funniest films of all time? I never saw Spamalot out of pure fear, but this might be even more terrifying. Except for the fact that Bailey's songs might be quite interesting. Book and music aside, the casting would be impossible. Could anyone really recreate Otto's presence other than Kevin Kline?
Tags:
a fish called wanda
bill bailey
broadway
camilla
eric idle
holy grail
john cleese
kevin kline
michael palin
monty python
otto