| | | |
| --- | --- | --- |
| Watchmen 2? Shoot Me | | |
Written by Ivan Radford
Thursday, 04 February 2010 11:44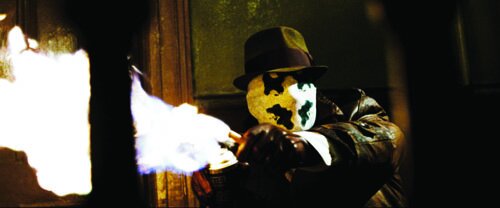 Zack Snyder's Watchmen, love it or hate it, was a successful movie. It busted those blocks with financial precision. Now, since that caused Alan Moore's graphic novel to rocket to the top of the best-seller list, DC is considering making a sequel. Watchmen 2.

Paul Levitz, head of DC, always stuck by Moore's seminal work, stating that it should be left as is: that, as comic book blog Bleeding Cool puts it, "the comic is the comic is the comic". But they have now reported that, with Levitz having stepped down, DC's Senior Vice President, Dan DiDio, is keen on expanding the Watchmen universe.

Will Dave Gibbons be convinced to step in for more books, artwork and, eventually, movies? Will Alan Moore's vision, now disowned by him since it got the Hollywood treatment, be even further tainted? After all, the reason the graphic novel (and the faithful, if shallow, film) remains so good is that it's been unmolested for 20 years.

All that just might change. For the worse. It's not hard to see why they want to chase the money down the shithole, especially with such fasinating characters as Rorschach. Perhaps a spin-off just for him. In which he dons his mask, picks up a can of deodorant, and torches DC's offices. Something like that.
Tags:
alan moore
comic book
david gibbons
dc
rorschach
sequel
superhero
watchmen
zack snyder