| | | |
| --- | --- | --- |
| Oscar Nominations Announced! | | |
Written by Ivan Radford
Tuesday, 02 February 2010 13:46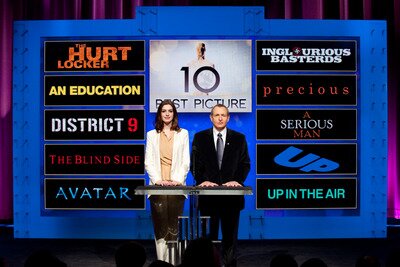 They're in. They're here. They're predictably all pointing towards Avatar and The Hurt Locker. Shame about the first bit there, but Cameron and Mrs Non-Cameron are squaring up with nine nominations apiece for their movies. And maybe, just maybe, The Hurt Locker might bag the majority of those.

Naturally, they're both up for the two biggies, but it's nice to see Kathryn Bigelow's brilliant war film pick up a Best Actor nomination for Jeremy Renner too. Although with Jeff Bridges in there for Crazy Heart, it's likely the Oscar is going his way - sorry, Colin Firth, but it's not a year for British actors.

British Actresses, on the other hand. Well, we've got Helen Mirren for The Last Station, as well as Carey Mulligan for An Education. Neither will get it with Sandra Bullock up for grabs, but hey, it's good to have our ladies honoured in passing at least. As for Supporting Actors, those are pretty much a given, too, with Mo'Nique and Christoph Waltz both nominated for their award-winning roles.

The best news for me is Best Adapted Screenplay, which sees not only Nick Hornby pick up his first nod for An Education, but also Armando Ianucci for In the Loop. I'll just repeat that again: In the Loop. Armando Ianucci. It's worth repeating, partly because it's brilliant but also because Academy President Tom Sherak can't pronounce his name correctly. Once again: Ianucci.

Anne Hathaway had no problem reeling off the other names on the list, with Costume and Art Direction seeing The Imaginarium of Doctor Parnassus receive some worthy creative attention - alongside Avatar, of course. Visual Effects obviously also mentioned the blue people (who thankfully didn't get any writing nominations), but it's stuff like Editing where Avatar might easily lose out to Bigelow's The Hurt Locker; while each have a raft of contenders, some of the technical categories could easily swing any which way.

Animation, naturally, sees Up at the front of the pack - with Fantastic Mr Fox, Coraline and even Princess and the Frog, but curiously no Cloudy with a Chance of Meatballs. But Up is also now playing with the big boys over in the Best Picture arena. Yes, with the major Oscar now extended to 10 entries, there's a chance for the more audience friendly fare to get a look in. Naturally, that means that Moon, Star Trek, A Single Man and (500) Days of Summer are nowhere near any of them. Instead we have Avatar, Hurt Locker, Inglourious Basterds (which is too heavily nominated with 8), Up in the Air (a solid 6 nods), Precious, A Serious Man, An Education, District 9 (a pleasant inclusion), Up and The Blind Side. Yes, The Blind Side. The Sandra Bullock thing.

So with no Moon, no Road and no (500) Days of Summer anywhere on the list, this year's Oscars are the usual mix of America-friendly biopics, box office smashes and heartfelt dramas. It's great to have an outsider like District 9 step into position, not to mention the wonderful A Serious Man, but if Young Victoria and Coco Before Chanel can get in there for Costumes, it seems unfair to completely dismiss Clint Mansell's score for Moon, or (500) Days' screenplay. Still, Jason Reitman's nominated for stuff. So I'm happy. The rest I blame on Sandra Bullock.

The Oscars will be happening live here on Sunday 7th March - expect big, multi-platform, cross-blogging coverage - in the wee small hours of the morning. I'll put up my predictions in the interim weeks. Until then, read on for the full list of nominees. And then leave your angry comments below. 
Best Picture
Avatar
The Blind Side
District 9
An Education
The Hurt Locker
Inglorious Basterds
Precious
A Serious Man
Up
Up In the Air

Best Director
James Cameron, Avatar
Katherine Bigelow, The Hurt Locker
Quentin Tarentino, Inglourious Basterds
Lee Daniels, Precious
Jason Reitman, Up In The Air

Best Actor
Jeff Bridges, Crazy Heart
George Clooney, Up In The Air
Colin Firth, A Single Man
Morgan Freeman, Invictus
Jeremy Renner, The Hurt Locker

Best Actress
Meryl Streep, Julie & Julia
Sandra Bullock, The Blind Side
Helen Mirren, The Last Station
Carey Mulligan, An Education
Gabourey Sidibe, Precious

Best Supporting Actress
Penelope Cruz, Nine
Vera Farmiga, Up In the Air
Anna Kendrick, Up In the Air
Maggie Gyllenhaal, Crazy Heart
Mo'nique, Precious

Best Supporting Actor
Christoph Waltz, Inglourious Basterds
Matt Damon, Invictus
Stanley Tucci, The Lovely Bones
Woody Harrelson, The Messenger
Christopher Plummer, The Last Station

Best Adapted Screenplay
Neil Blomkamp, Terri Tatchell, District 9
Neil Hornby, An Education
Jesse Armstrong, Simon Blackwell, Armando Iannucci, Tony Roche, In The Loop
Geofrey Fletcher, Precious
Jason Reitman, Sheldon Turner, Up In The Air

Best Original Screenplay
Mark Boall, The Hurt locker
Quentin Tarentino, Inglourious Basterds
Joel And Ethan Coen, A Serious Man
Alessandro Camon and Oren Moverman, The Messenger
Bob Peterson, Pete Docter, Up

Art Direction
Avatar
The Imaginarium of Doctor Parnassus
Nine
Sherlock Holmes
The Young Victoria

Cinematography
Avatar
Harry Potter and the Half-Blood Prince
The Hurt Locker
Inglourious Basterds
The White Ribbon

Costume Design
Bright Star
Coco Before Chanel
The Imaginarium of Doctor Parnassus
Nine
The Young Victoria

Best Documentary Feature
Burma VJ
The Cove
Food Inc.
The Most Dangerous Man In America: Daniel Ellsberg and the Pentagon
Papers
Which Way Home

Best Documentary Short
China's Unnatural Disaster: The Tears of Sichuan Province
The Last Campaign of Governor Booth Gardner
The Last Truck: Closing of A GM Plant
Music By Prudence
Rabbit A La Berlin

Film Editing
Avatar
District 9
The Hurt Locker
Inglourious Basterds
Precious: Based on the novel Push by Sapphire

Best Foreign Language Film
Ajami
El Secreto
Desus Ojos
The Milk of Sorrow
A Prophet
The White Ribbon

Make Up
Il Divo
Star Trek
The Young Victoria

Music: Original Score
Avatar
Fantastic Mr Fox
The Hurt Locker
Sherlock Holmes
Up

Music: Original Song
The Princess and The Frog – Almost There
The Princess and The Frog – Down In New Orleans
Paris 36 – Loin de Panane
Nine – Take It All
Crazy Heart – The Weary Kind

Short Film: Animated
French Roast
Granny O'Grimm's Sleeping Beauty
The Lady And The Reaper
Logorama
A Matter of Loaf and Death

Short Film: Live Action
The Door
Instead of Abracadabra
Kavi
Miracle Fish
The New Tenants

Sound Editing
Avatar
The Hurt Locker
Inglourious Basterds
Star Trek
Up

Sound Mixing
Avatar
The Hurt Locker
Inglourious Basterds
Star Trek
Transformers: Revenge of the Fallen

Visual Effects
Avatar
District 9
Star Trek

Best Animated Feature Film
Coraline
Fantastic Mr Fox
The Princess And The Frog
The Secret Of Kells Up
Tags:
academy
alec baldwin
avatar
award
bafta
district 9
hurt locker
james cameron
jason reitman
kathryn bigelow
kodak theatre
lee daniels