| | | |
| --- | --- | --- |
| Christoph Waltzes Away With Award | | |
Written by Ivan Radford
Monday, 25 January 2010 11:39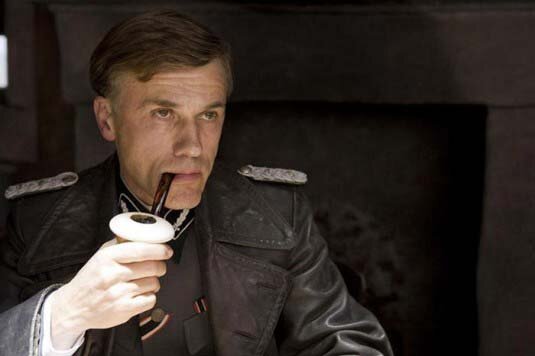 He'll be smoking that pipe of success for sure after taking away yet another acting prize. Yes, Christoph Waltz won Best Supporting Actor at the Screen Actors Guild Awards last night - further reason to believe he will nab the same gong at the Oscars come March. Inglourious Basterds also took home the Best Ensemble Cast award; a deserved treat, if you overlook Brad Pitt and Eli Roth.

The other awards followed the Golden Globes lead, giving stuff out to Jeff Bridges, Mo'Nique and Sandra Bullock. Great for the first two, if a little done before on the third. TV awards went a similar way, with Mad Men and Glee scooping the top prizes.

So not many surprises here for awards junkies. But hey, who would dare strip Hans Landa's title away from him? Not me. Not with that pipe on the line. Read on for the full list of winners.
Best Ensemble Cast (Film)
Inglourious Basterds

Best Actor in a Leading Role (Film)
Jeff Bridges, Crazy Heart

Best Actress Actress in a Leading Role (Film)
Sandra Bullock, The Blind Side

Best Supporting Actor (Film)
Christoph Waltz, Inglorious Basterd

Best Supporting Actress (Film)
Mo'Nique, Precious: Based On The Novel 'Push' By Sapphire

Best Stunt Ensemble (Film)
Star Trek

Life Achievement Award
Betty White

Best Drama Series Ensemble Cast
Mad Men

Best Actor in a Drama Series
Michael C. Hall, Dexter

Best Actress in a Drama Series
Julianna Margulies, The Good Wife

Best Comedy Series Cast
Glee

Best Actor in a Comedy Series
Alec Baldwin, 30 Rock

Best Actress in a Comedy Series
Tina Fey, 30 Rock

Best Actor in a Movie or Miniseries
Kevin Bacon, Taking Chance

Best Actress in a Movie or Miniseries
Drew Barrymore, Grey Gardens

Best Stunt Ensemble (Television)
24
Tags:
award
christoph waltz
inglourious basterds
nomination
oscar
screen actors guild
supporting actor
tarantino