Star Ratings
| | |
| --- | --- |
| | Amazing |
| | Well good |
| | Fun |
| | Meh |
| | Rubbish |
| | | |
| --- | --- | --- |
| Polanski at the BFI: Bitter Moon, Frantic and The Ghost | | |
Written by Ivan Radford
Sunday, 10 February 2013 17:02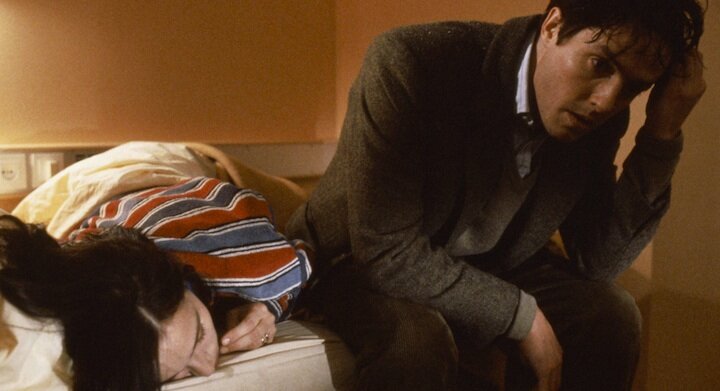 "Everyone has a sadistic streak, and nothing brings it out better than the knowledge you've got someone at your mercy."
That's the jaded Oscar (Pete Coyote), talking to Hugh Grant's Nigel on a cruise. Nigel's travelling with his wife (Kristin Scott Thomas) in an attempt to rekindle their romance. Instead, he ends up sitting in a cabin listening to Oscar talk about his relationship with the intoxicating Mimi (Emmanuelle Seigner). It's a graphic relationship – one that intrigues as much as it repulses. But Oscar keeps talking. And Nigel keeps listening.
That same interaction drives all of Roman Polanski's work. It's no coincidence that a lot of his stories involve detectives, or detective-like protagonists: Chinatown, The Ninth Gate, The Ghost, Frantic. They make up the most Hollywood of his films, but they're all about men digging up the darkness beneath the surface.
That darkness can vary: in The Ninth Gate, it's supernatural; in Chinatown, it's criminal. Bitter Moon is sexual. Very, very sexual.
In what feels like a continuation of Knife in the Water's psychological power games, the 1992 drama sees Oscar and Mimi's romance descend into a string of abuse – a cycle of S&M that lands Oscar in a wheelchair. But while he appears to be a weak victim, Coyote's nasty performance reveals a man skilled in cynical manipulation; someone who enjoys toying with his audience as much as his lover.
There's a dark humour to the flashbacks as well. An exchange of milk at the breakfast table turns into early morning oral sex; as Oscar grips the kitchen table in ecstasy, a slice of toast pops up with a bang. Later, a dog climbs up on the bed halfway through intercourse then barks as he finds himself trapped.
But the pup's yelps of embarrassment are nothing compared to the squeaks emitted by Hugh Grant. Even more blustering than in a Richard Curtis film, the baby-faced Brit is brilliantly awkward as Oscar's story continues.
"What do you think you're doing sharing the details of your perverted sex life with a total stranger?" he blurts. "It's just obscene!"
That same bumbling innocence is what generates the tension in The Ghost. Unlike "Nigel", Ewan McGregor's writer remains nameless, but his investigation into Pierce Brosnan's former Prime Minister, a respectable man accused of war crimes, uncovers an equally seedy world. The film excels in balancing the secret undercurrents with the mundane surface, a distinction epitomised by one thrilling set piece, in which McGregor follows a sat nav to an unknown destination.
Olivia Williams' alluring wife introduces the concept of physical corruption to the tale. It's decidedly tamer than Bitter Moon, but McGregor's reaction is similar to Nigel's; backing away when he realises what he's done, then continuing to dig nonetheless.
1988's Frantic follows a similar formula. Another mystery, it follows Harrison Ford's Dr. Walker as he hunts for his wife when she disappears from their Paris hotel room. Investigating the underbelly of France's capital, he finds himself clambering over rooftops and paying off prostitutes – the stunning Emmanuelle Seigner again, before she became Mrs. Polanski – to work out where she is.
As with many of Polanski's detective flicks, Frantic involves a man literally (as well as metaphorically) out of context. An American doctor in Paris. A man on a boat. A British writer in a remote hideaway in Massachusetts. Similarly, a key turning point comes halfway through: asking questions in a bar, Dr. Walker ends up in a cubicle with a gram of cocaine under his nose. He starts to explain that's not what he wants. Then, he pauses. And sniffs.
Like McGregor blindly following the car's instructions, or Hugh Grant agreeing to go to Oscar's bedroom to have sex with Mimi, by then it's too late: he's hooked.
"You make me sick," spits Nigel after another obscene flashback.
"Why are you still standing here?" comes Oscar's reply.
Bitter Moon fails because it shows us too much (it loses its way in the third act), but it's an interesting exploration of our urge to know more. Does Oscar, with his cruel humour and self-professed attraction to girls who combine "childhood naivety and adult sexuality" (they play hopscotch on a first date), represent Polanski?
If not, he represents our idea of the director: one that he throws right back in our face. This is only the third film Polanski made in the decade following his charge of unlawful sex with a minor. In it, he lets us watch him salivate and even get punished – but throughout we're held strangely captive, at mercy to his sadistic control.
"Have another cup of tea," he tells his nervous onlooker with a grin. "It'll steady your nerves."
Bitter Moon is on tonight at the BFI. Frantic and The Ghost are on later this month. For more information on the BFI Polanski season, visit the official site here.