Star Ratings
| | |
| --- | --- |
| | Amazing |
| | Well good |
| | Fun |
| | Meh |
| | Rubbish |
| | | |
| --- | --- | --- |
| Polanski at the BFI: Komeda, comedy and crocodiles | | |
Written by Ivan Radford
Wednesday, 16 January 2013 07:28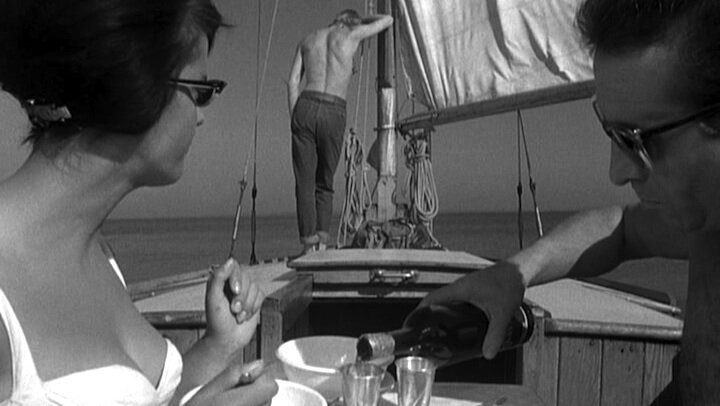 Did you know Roman Polanski made a vampire film? One of the great things about the BFI Polanski Season – as with all the BFI's retrospectives – is that it gives you the chance, and perhaps more importantly the impetus, to discover new things about a director. For example, Roman Polanski made a vampire film. And not just any vampire film: a vampire comedy.
But while that brings to mind dreadful crap like Scary Movie 12, or whatever Godless number they're on now, rest assured: this is the kind of thing Roman Polanski had been doing for years. Give or take a fang or two.
One of the gives? Polish jazz legend Krzysztof Komeda.
Komeda's score for 1968's Dance of the Vampires is a brazenly silly mesh of wailing choirs, ominous piano and squelching synths: just when you think you have the measure of it, it lollops off in another direction, looping over and over with an hynoptic offbeat limp.
It's unsetlling yet incredibly daft – the perfect sound for a Polanski movie, particularly one with an alternate title of "Pardon Me but Your Teeth Are in My Neck" and a hero named Professor Abronsius.
The film follows Jack MacGowran's old vampire investigator (sprouting Einsteinesque hair) as he tries to save young victim Sarah (the gorgeous Sharon Tate) from the clutches of – another brilliant name – Count von Krolock (Ferdy Mayne).
The warped production design, vibrant colours and Hammer-homaging make-up make up for some of the flaws in the script's humour, but this is worth watching just for Roman Polanski himself. Starring as Abronsius' young, foolish sidekick, he pratfalls around the screen with a permanently surprised expression on his face. If emoticons were humans, he would be :-o.
Simultaneously casting himself as the romantic lead AND the comic relief, the diminutive director is clearly enjoying the heck out of his spooky, stupid comedy – a strange insight into the brain of a man who has straddled scary and funny for his whole career.
Rewind two years to 1966 and Cul-de-Sac treads almost exactly the same line. And sure enough, there's Komeda again, this time with bongos, wild horns and a tinny electronic waltz that stops anyone from getting too comfortable. That includes Donald Pleasance and his wife (Francoise Dorleac), whose home becomes the hideout for two on-the-run criminals.
It starts out as a straight psychological thriller, but the barmy isn't far behind, with Polanski surreally swapping the roles of hostage and captor around when the couple's friends arrive for tea, prompting the borderline-cockney gangster to become pseudo-butler to his upper-class prisoner. It's the kind of power play that Pinter would adore, but that wonderfully tense situation is nothing compared to the film's other bizarre sight: Donald Pleasance in a wig putting on his best drag queen. Talk about Blofeld's pussy. Meow.
Sexual frustration. Murder. Control. Class. Alienation. Horror. Yep, there's a pattern forming – one that began with Knife in the Water, Polanski's 1962 debut (also showing at the BFI).
Polanski's only film in Polish, it hops aboard the tiny sailing boat of well-off middle-aged Andrzej (Leon Niemczyk) and his girlfriend Krystyna (Jolanta Umecka). Joining us on their jazz-soundtracked frolics is a young hitchhiker (Zygmunt Malanowicz).
Why? Because Andrzej wants to prove a point – if by point, you mean his penis.
As the two men vie for the alpha male role, Polanski's camera puts us the most extraordinary of positions: over someone's shoulder, peeking past Krystyna's face or, in one brilliant moment, right at the top of the mast after the young intruder symbolically demonstrates his, erm, climbing prowess.
It's a masterclass in framing, not least because of the movie's claustrophobic setting, heightened by the grainy black-and-white visuals. To achieve all that in your first feature film is downright incredible.
But Polanski's humour soon spills onto the deck too. Stripping down to their swimwear – Polanski suggests sex without ever showing it – the trio's frustration is relieved in odd bursts of irrelevant dialogue (the Pinter comparison rears its head once more) and unexpected actions, backed up by Komeda's wandering bass-lines and stabbing strings that undermine the cool serenades of Bernt Rosengren's saxophone.
"Give me the crocodile!" calls Krystyna, who goes into the sea for a swim. Quick as a flash, before we can even guess what she means, up pops an inflatable crocodile. Because what else would it be?
As literal as it is abstract, Knife in the Water acts as a distillation of Plein Soleil/The Talented Mr Ripley's central themes and as the dry-run for Billy Zane's Dead Calm. It surpasses both in terms of its simple refusal to follow convention. There are no screwdrivers-in-dogs here or other bloody murders. Just bleak laughs, inflatable crocodiles and, of course, the freewheeling jazz stylings of Krzysztof Komeda. (No wonder Roman asked him back to compose the soundtrack for Rosemary's Baby.)
Fast forward to 2012's Carnage and nothing much has changed. Alexandre Desplat's offbeat score is as quirky and witty as Polanski's devilish script, while the director's enjoyment of humiliation and power is as sharply balanced as ever. A career that spans 50 years and that unique sound of comedy has never left.
The BFI Polanski Season runs until February. Dance of the Vampires is on tonight at 8.50pm. Knife in the Water is screening on Saturday 19th January at 8.45pm. For more information, visit the official site.