Star Ratings
| | |
| --- | --- |
| | Amazing |
| | Well good |
| | Fun |
| | Meh |
| | Rubbish |
| | | |
| --- | --- | --- |
| London Film Festival Review: The Pervert's Guide to Ideology | | |
Written by Ivan Radford
Saturday, 20 October 2012 14:32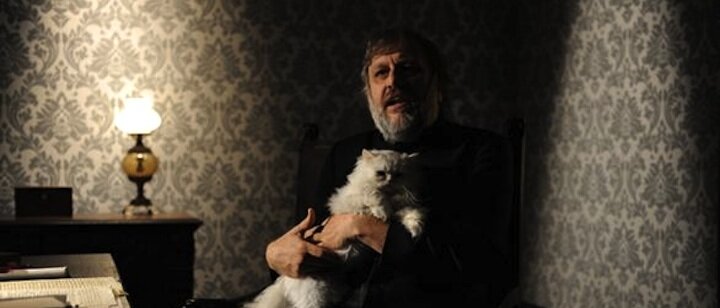 Director: Sophie Fiennes
Cast: Slavoj Zizek
Showtimes
There aren't many people in the world who can talk about "ideology" for two and a half hours actually remain interesting. Fortunately, Slavoj Zizek is one of them.
Reuniting with Sophie Fiennes after The Pervert's Guide to Cinema, Slovenia's answer to Werner Herzog uses exactly the same technique for this documentary: breaking down scenes from classic films by seemingly editing himself inside them. If you're not one for listening to diatribes about The Self and The Other, try doing it when the guy talking is on the boat from Jaws or sharing a toilet with Full Metal Jacket.
It's a neat gimmick, but one that strengthens his theories as well as gives them colour. Perfectly cut together by Ethel Shepherd, Fiennes' direction turns Zizek's endless voiceover into a varied, enjoyable narration. One scene where he appears in The Sound of Music dressed as a nun is laugh-out-loud funny.
But while The Pervert's Guide to Ideology gets bonus points for expanding beyond the realm of just the silver screen, the subject itself is so vague that any sense of structure soon disappears.
"Ideology is an empty container open to all possible meaning," he says at one point. The result is a container that's stuffed full of history, from Nazism and Communism to the London Riots and Wall Street. It's a good mix, but you can't help but feel it would work better on the small screen, broken down into a four-part series.
Exhausting and exhaustive, The Pervert's Guide to Ideology is a lecture that takes its ambitious content and runs with it for hours. You'll drift in and out, but like all the best lectures, your brain will be mulling it over for hours. After all, how DID he dress up as a nun?