Star Ratings
| | |
| --- | --- |
| | Amazing |
| | Well good |
| | Fun |
| | Meh |
| | Rubbish |
| | | |
| --- | --- | --- |
| London Film Festival Review: Rust and Bone | | |
Written by Ivan Radford
Saturday, 13 October 2012 17:58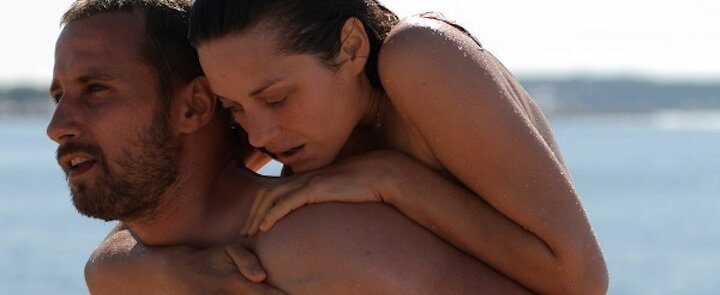 Director: Jacques Audiard
Cast: Marion Cotillard, Matthias Schoenaerts
Showtimes
After wowing with A Prophet, Jacques Audiard returns with the equally grim Rust and Bone. The story of Stephanie (Cotillard), an orca trainer who loses both of her legs, it's like watching Free Willy being remade by the French. She can't walk. The whale never escapes. Everyone stays miserable.
But Rust and Bone has something that Free Willy didn't have: Marion Cotillard. Her intense performance has an emotional and physical intensity that feels completely genuine. Physical. That's the right word for Rust and Bone: from Cotillard grappling with disability to her rough boyfriend Ali (Schoenaerts) boxing on the streets, it's as raw as it gets. And Audiard revels in it, getting down in the dirt to feel every punch.
But for all its grim violence and bleak outlook, Rust and Bone remains a moving, almost heartwarming experience. Why? Because its central relationship is so believable. It's no coincidence that the script, based on the novel of the same name by Craig Richardson, created this couple from scratch; two opposites that were never meant to attract, their romance gives Audiard's leads an incredibly complex bond to explore.
And how nice it is to see two screw-ups without the usual back-stories of drugs and alcohol. These are real characters, not cliches, who have been made this way by the world around them - Matthias' self-centred prick ranks alongside Michael Fassbender in Shame for his callous, sexy dickishness, while Cotillard is as fierce and independent as ever. Even Matthias' sister, struggling against a harsh economic climate, has a depth you wouldn't expect from a supporting cast member. Add in the fact that it's all shot so gracefully and Audiard has served up another beautiful slice of ugliness. An anti-Free Willy that's nasty and depressing - but strangely, wonderfully uplifting.