Star Ratings
| | |
| --- | --- |
| | Amazing |
| | Well good |
| | Fun |
| | Meh |
| | Rubbish |
| | | |
| --- | --- | --- |
| Raindance Film Review: Practical Guide to Belgrade with Singing and Crying | | |
Written by Ivan Radford
Saturday, 06 October 2012 13:46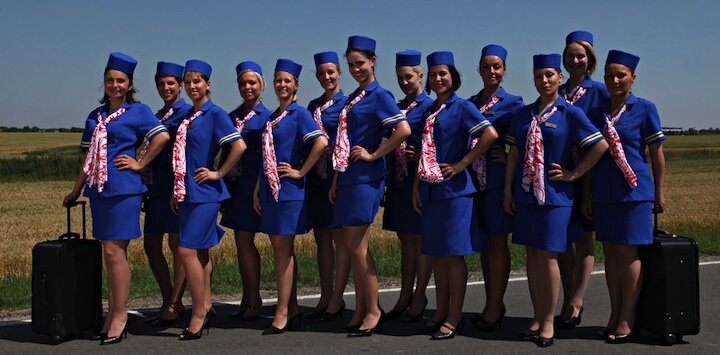 Director: Bojan Vuletic
Cast: Jean Marc Barr, Julie Gayet, Baki Davrak
Showtimes
"After long hard years of isolation… war and terrorism… Belgrade has opened its heart again to tourists and visitors from across the world who are curious."
So speaks a woman, standing in front of a choir of singing airhostesses. If that doesn't make you curious, I don't know what will.
How about a sultry singer whose celebrity bubble is popped by a young boy? An American diplomat with a taste for the kinky? A Turkish man seduced into having an affair? A newly wed couple who haven't told each other the whole truth?
All of them are here in Serbia's capital, a hotbed of drama, comedy, sex and secrets. And director Bojan Vuletic has great fun delving into their lives, piecing together four almost-flawless short films around the city. Along the way, we get glimpses of the train station, the main high street, the fields far flung from the main centre, each one linked by another bizarre chorus of singing Serbs. Even the armed police belt out a strong baritone number, guns and helmets in tow.
As they serenade us, the film recites yet more facts and figures. Security, transport, membership of the EU – all these dry topics tumble into our ears. All the while, Vuletic busies himself with shooting couples snogging in front of Belgrade's landmarks.
It's a strange portrait of a city, to say the least, but Belgrade is a strange – and enchanting – place, where car chases come out of nowhere and people impulsively throw glasses on the floor. It's no coincidence that every short involves a foreigner being drawn into the city, charmed by its music, its exaggerated humour, its women. Yes, women. They play a big role in Vuletic's tableau, controlling every single story; the most stunning of all sees a Serbian lady take a Turk completely to pieces in a matter of minutes, enticing him to acts of violence and passion through a heady rhetoric about language.
Shot beautifully, told succinctly and full of affection, A Practical Guide to Belgrade with Singing and Crying is as much about relationships as it is a capital city.
"By making love to our neighbours from abroad," says one narrator, "we feel closer to Europe and the world. Love brings us together, love sets us free, love makes us better."
Each little snapshot of emotion builds up to a complex, witty picture of a funny, carefree nation - and after visiting (and loving) Belgrade earlier this year, it really does nail the spirit and identity of the city with astonishing accuracy. As a guide, it's completely impractical, but this is a total joy to watch.
And if that doesn't make you curious, I don't know what will.

Practical Guide to Belgrade with Singing and Crying trailer
Tags:
a practical guide to belgrade with singing and crying
baki davrak
bojan vuletic
jean marc barr
julie gayet
serbia