Star Ratings
| | |
| --- | --- |
| | Amazing |
| | Well good |
| | Fun |
| | Meh |
| | Rubbish |
| | | |
| --- | --- | --- |
| Sundance London Review: Nobody Walks | | |
Written by Ivan Radford
Sunday, 29 April 2012 10:57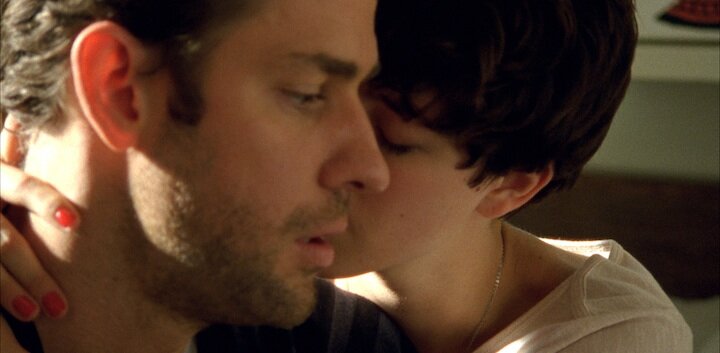 Director: Ry Russo-Young
Cast: John Krasinski, Olivia Thirlby, Rosemarie DeWitt
Showtimes
For a film called Nobody Walks, there's quite a lot of walking. No jetpacks. No hover cars. Not even a pogo stick.
The title of Ry Russo-Young's drama refers to the place in which it's set: Los Angeles, where nobody walks – presumably because they're too busy having sex. Into this anti-pedestrian town strolls Martine (Thirlby), a young student finishing an art project. She stays with Peter (Krasinski), Julie (DeWitt) and their family. She's an outsider. And, like all outsiders who enter a loving home, she proceeds to screw everything up. Literally.
Peter, you see, is a sound guy. He spends his day in a soundproof studio recording, cutting, dubbing and mixing – he's exactly what Martine needs to complete her movie (a grainy black-and-white short about ants crawling over nude human bodies). But between those walls where nobody can hear you hump, folio soon turns into fornicating, leaving Peter confused, Martine conflicted and Julie upset.
It's nothing we haven't seen before, something that Russo-Young's third feature really suffers from. But her script, co-written with Tiny Furniture's Lena Dunham, fights audience fatigue with some really fleshed-out female characters.
Both on form, DeWitt and Thirlby are given heaps to do, from sensual flirting with young PAs (Rhys Wakefield) to batting off the advances of sexual predator (Dylan McDermott). Even India Ennenga's daughter, Kolt, has an unnecessary subplot with an inappropriate Italian tutor.
On the other side of the household, Krasinski's beardy charm is (as always) hard to resist but amid the sprawling mess of human emotions, it's telling that the most memorable thing about the production is its heightened soundtrack - an inspired use of audio, but you wish that the same careful editing was applied to the script.
The result is an absorbing but overly familiar brew of infidelity and sunlit living rooms. The rich family's secluded home and swimming pool may not win them many fans at first, but Russo-Young's subtle exploration of relationships makes each one sympathetic in turn. It's just a shame that over the 83 intriguing minutes, Nobody Walks never steps somewhere new. Maybe that pogo stick would have been a good idea after all.
Tags:
dylan mcdermott
india ennenga
john krasinski
nobody walks
olivia thirlby
rhys wakefield
rosemarie dewitt
ry russo-young