Star Ratings
| | |
| --- | --- |
| | Amazing |
| | Well good |
| | Fun |
| | Meh |
| | Rubbish |
| | | |
| --- | --- | --- |
| DVD Review: Berberian Sound Studio | | |
Written by Ivan Radford
Monday, 31 December 2012 07:24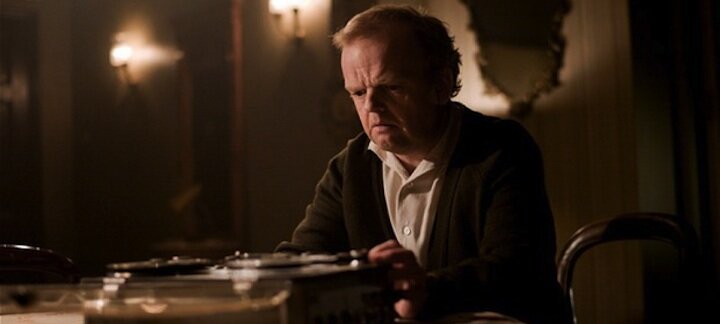 Director: Peter Strickland
Cast: Toby Jones, Antonio Mancino, Tonia Sotiropoulou
Certificate: TBC
A tiny man locks himself into a room, puts on some headphones and starts fiddling with knobs. Sound editing is a lot like sex, Steve Carell once quipped at the Oscars. For foley artist Gilderoy (Toby Jones), it's as unglamourous as intercourse gets. Hired to record the sounds for a 1970s Italian horror, the timid Brit spends his life chopping cabbages and squishing carrots in silence, while screams and yells play over the top. At one point, a man walks in and records the vocals for a "dangerously aroused goblin". More screams follow. It's unique, it's funny, it's creepy. It's one of the best films of the year. And it's out on DVD today.




 

Berberian Sound Studio wiggled its way into my ears during FrightFest and has been banging around inside ever since. Carefully directed by Peter Strickland, we never see the results of Gilderoy's vegetable abuse - but we feel every beat. Flooding the claustrophobic studio with atmospheric clicks and whirrs, the horror builds off-screen with audible menace. No wonder Toby Jones starts to lose his mind. By the time the bonkers final act comes around, your ears will be playing tricks on you too.

 




Where did Strickland get such a bizarre idea from? Unsurprisingly, for a production so steeped in tiny  details, the behind the scenes info on the DVD is exemplary. A 30-minute interview with Strickland reveals that the project started as a one-minute joke (also on the disc). "Vincent fights the giant robot", reads the short film's sound director. "Vincent beheads the zombies." That mix of humour and creativity is still present in the full feature, meticulously assembled by the director.  




One scene was cut, he candidly admits, because it "felt as if was played for laughs too much, which is entirely my fault with the writing". An extensive 40-minute making of also confirms how brilliant (and essential to the British film industry) Warp Films are. They found Strickland's first film, Katalin Varga, just lying around in a box, explains lovely producer Mary Burke. Her enthusiasm is infectious; even Toby Jones, who looks like he's just been woken up on your living room couch - in the best way possible - is chirpy and excited about it all.




When Berberian Sound Studio came out simultaneously in cinemas and on-demand, there was a lot of debate about whether the sounds worked best on the big screen. But with such a comprehensive package of special features on offer, Warp's DVD release proves that the small screen is just as immersive. Lock yourself in a tiny room, late at night, with the biggest pair of headphones you can find, and Berberian Sound Studio is like making sweet, sweet love to your ears. And that's before you get to the extra  1 minute and 59 seconds of dangerously aroused goblin. 




VERDICT




Foley shit, it's awesome.